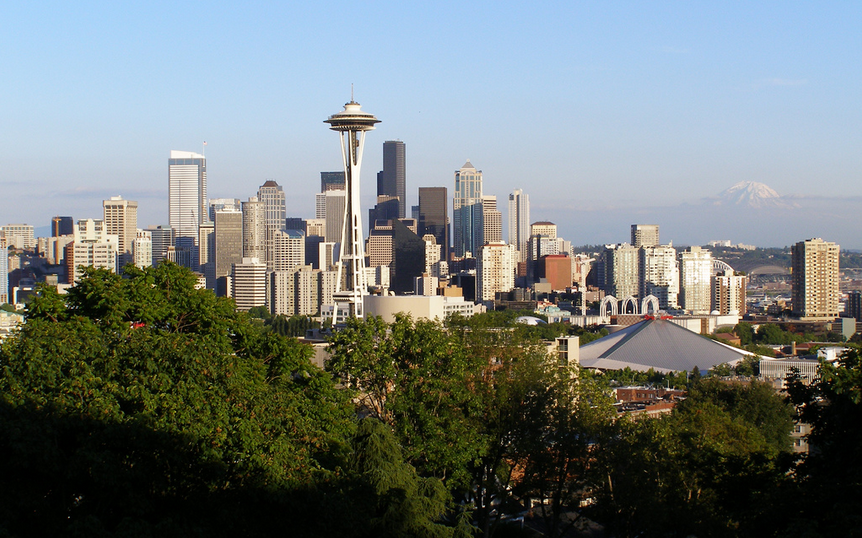 Brimming with culture and numerous entertainment mediums, Seattle, Washington can provide tourists with a wide variety of compelling sightseeing options. The city is comprised of a distinctive downtown area surrounded by dozens of prominent neighborhoods and districts. Within this sprawling urban metropolis resides venerable markets and modern skyscrapers, a fusion of historical and contemporary. Seattle's dynamic public transportation services allow people to ride the train instead of the bus and reach their intended destination faster. For example, residents occupying the northwest region can now take the train into the city, simplifying their daily commute. This is a prime example of how Seattle is a very intelligent and diverse city fully comfortable with its 21st century identity.
For those looking for things to do in Seattle that are more sporty and adventurous in nature, you won't be disappointed. Here's a brief overview of the many outdoors activities and experiences Seattle has to offer.
Seattle's Hiker Paradise
Seattle's close proximity to mountains and wilderness provides ample opportunities for the hiking enthusiast. The Washington Park Arboretum contains short and easy trails perfectly suited for more casual hikers, and additionally reportedly possesses over 40,000 different forms of plant life. World famous Olympic National Park offers numerous hiking options and four distinct regions (coast, alpine areas, rainforest, dry forest) for visitors to navigate. For breathtaking views of the surrounding area, people are encouraged to scale the small yet imposing Mount Pilchuck, a 5,340 foot peak whose six mile ascent is deceptively challenging.
Seattle's Regional Ski Resorts Galore
Come wintertime, locals unpack their snow gear and Seattle-Tacoma International Airport is overrun with an influx of visitors flocking to the region's numerous ski resorts. Seattle's geographic location allows for immense annual snowfall and the accumulation of deep powder, which is highly coveted by snow sport enthusiasts. Boasting 37 runs and 1,125 acres across 1,800 feet of vertical elevation, Stevens Pass has established itself as one of the more popular options. Crystal Mountain is also particularly beloved, due to both its expansive size and ability to appeal to skiers of all skill levels. Additional Seattle region ski resorts include The Summit, Hurricane Ridge, Leavenworth, and Mt. Baker.
Seattle's Boating Haven
Situated right along the Pacific-Northwest coastline, Seattle is a haven for seafarers, mariners, and boat enthusiasts alike. Numerous boating companies reside alongside the water, offering everything from maintenance to boat rentals/ purchases. Sailing and yacht clubs also dot the coast, offering exclusive perks and amenities to their members. For those who don't have an affinity (or the money) for boating excursions, it's just as easy to rent kayaks for a few hours for a therapeutic paddling session on the water. Ultimately, regardless as to whether you are partial to dinky kayaks or mega yachts; Seattle has the ideal boating environment for you.
Conclusion
The Seattle region offers a plethora of hiking, skiing, and boating opportunities. It's these available activities that really showcase the city's immense appeal as both a cultural center and outdoor playground. Seattle has evolved into a trendy and contemporary urban epicenter of entertainment, art, and design. The simple fact you can ride the train instead of the bus demonstrates the city's commitment to developing multiple quality public transportation solutions and effortlessly integrating them into the city landscape. Despite Seattle's urban appeal, don't forget to take advantage of the numerous outdoor activities awaiting in the surrounding wilderness.