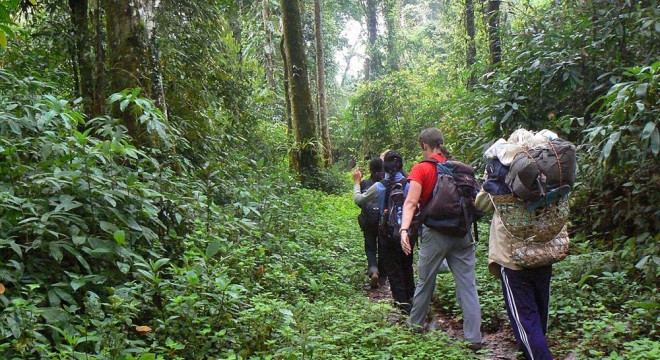 While only recently available to tourists, Burma is fast becoming a hot spot for adventurous travellers looking for something a little different to the regular Asian holiday. Trekking in Burma will reveal an exotic, yet now very accessible country, and one whose shy but welcoming people are very keen to show off their beautiful land. To appreciate the diverse culture and landscape, those willing to explore a little should include a visit to Amarapura, near to Mandalay, and Kengtung, a more rural region full of ancient culture and spirituality.
Amarapura
Amarpura is fast becoming renowned for the opportunity for those trekking in Burma to witness first-hand the reverential rituals of the Burmese monks. Every day, a procession of monks, both young and old, walk through the town holding offering bowls. The villagers come forward to place food in the bowls, which provides the sole supply of sustenance for them. Throughout the ritual there is music and chanting and the striking appearance of the monks, with their shaven heads and crimson robes, adds to the solemnity of the occasion.
The U Bien Bridge
Another sight those trekking in Burma will encounter in the Amarapura region is the U Bien Bridge. Renowned as the longest teak bridge in the entire world, a stroll across it will enable you to understand its significance in the local culture. Yu can also take a leisurely boat ride around the bridge.
The Kengtung Hill Tribes
When you arrive in Kengtung the first place to head is the local marketplace. Vibrant, colourful and buzzing with life typical of what you will see in these markets is completely unique to Burma, and in fact this region. Filled to the brim with local arts and crafts, the bazaar is a wonderful place to meet and speak with the local villagers. You'll find everything from food, jewellery, paintings, sculptures and textiles, including the famous local headdress.
Once you leave the village itself and venture in to the hills, each tribe you encounter has its own unique and authentic culture. The best known of the hill tribes are the friendly Ahn people – striking in appearance with their blackened teeth, which they clean with charcoal. Travellers trekking in Burma will often get the opportunity to be invited into the homes of these wonderfully warm people to share a meal and a drink, and it is a privilege not to be missed.