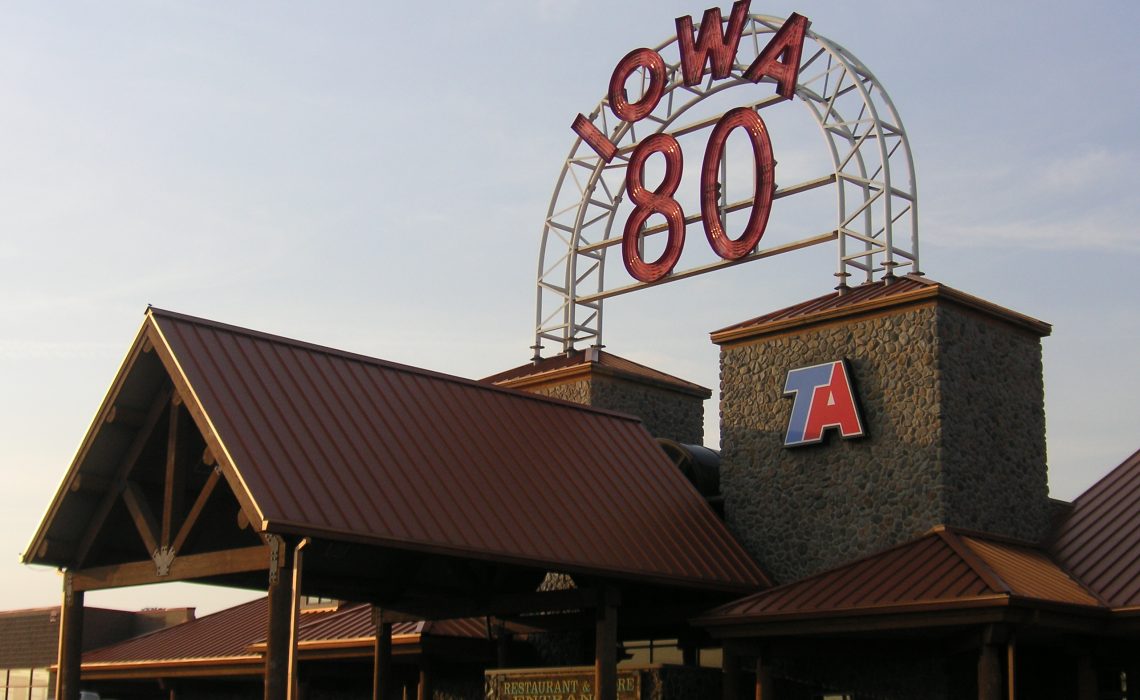 When you're facing a long car trip, truckers' best friends are now your best friends. Truck stops are uniquely convenient. They often have at least one restaurant, fast food or otherwise, attached to them, a store, clean restrooms and more. For truckers, they offer showers and a place to sleep.
Truckers tend to evaluate truck stops by a few factors that make them appealing to tourists, too. They like them to be clean, have a variety of amenities and a great restaurant attached to them. Since truckers are mandated to record resting times in their driver logs, they spend a fair bit more time at truck stops than the average citizen. That doesn't mean that you can't learn from them, though!

Here are truckers' three favorite rest stops:
Iowa 80:
If you're anywhere near Walcott, Iowa, be sure to visit America's largest truck stop. Truckers appreciate that it has a Blimpie, Caribou Coffee, Dairy Queen/Orange Julius, Taco Bell/Pizza Hut and Wendy's. Chances are good that you will, too! Iowa 80 also features church services on Sundays, a game room, a mailroom and a movie theater. It also has a pet washing area, a custom shop with engraving, tire sales and more. Need a tune-up for yourself as well as your car? Iowa 80 has a barbershop, a chiropractor and a dentist. With 24 showers and everything you could possibly want all under one roof, Iowa 80 tops our list.
The Alamo Casino and Travel Center:
Looking for a place to gamble, spend the night or refuel and relax? The Alamo Casino and Travel Center in Sparks, Nevada has it all. The casino has a full-service bar, 180 slot machines, table games like blackjack and craps, and sports betting. The bar, of course, is only recommended if you also plan on spending the night at the Super 8 Motel that's on the premises. It has 70 rooms, all of which come with free parking, free Wi-Fi access and a complimentary breakfast in the morning. The heated outdoor pool can be just the thing to break up a long drive, or end a successful day of gambling. There are two restaurants. Iron Skillet is great for families, and the Sports Bar and Grill has happy hour twice a day, along with $1 food and drink specials.
Jubitz:
Billing itself as the "world's classiest truck stop," Jubitz is a must-see if you're anywhere close to Portland, Oregon. The truck stop is so much more than a place to stop for fuel. Folks who love country music may find it's their new favorite venue between the line dances that take place and the live performances by country music acts. There's also a hotel with a 24-hour check-in desk and two levels of rooms. One is your standard hotel room (at standard price), and the other is more economical for truckers and tourists who are just passing through and don't need anything fancy. Don't forget to catch a show at the on-site movie theater before you go!
Before you plan a road trip, search for truck stops along the way. The big ones, like TA and Pilot, are predictably clean and have similar amenities. If you take the time to figure out where some of truckers' favorite stops are, though, you could be pleasantly surprised!