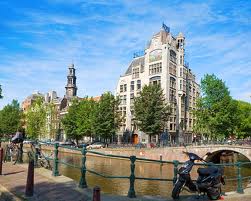 Amsterdam is one of the most beautiful and unique cities in the world. Canals travelling through the middle of streets that are lined with some beautiful century-old houses make a tour of this city a must! Taking a 24 hour trip to Amsterdam means that you will want to fit in as much as possible in the short amount of time you have there, and with so many great attractions for you to enjoy, you may become overwhelmed without a proper plan. This could result in you missing out on some of the best things to do in the city, so here is a guide on how to have a successful 24 hours in Amsterdam.
Museums
After over a decade of being closed due to renovations, the Rijksmuseum has recently reopened its doors to the public. One of the world's most amazing collections of art, including pieces from Rembrandt, Frans Hals and Jan Steen, is a must visit for those who come to Amsterdam.
Just across the the Rijksmuseum, the Stedelijk Museum is also well worth a visit, especially given that it has been closed for just over ten years. Inside, you will find a range of different pieces of work from Matisse, Chagall and Bruce Nauman. There are also plenty of performances that are staged here which, if you arrive at the right time, can be a great experience.
While its name suggests that a trip here may be quite frivolous, the Museum of Bags and Purses is actually home to everything from medieval pouches to latest contemporary designs. There is also a cafe inside that is located in a superb baroque drawing room, giving you the feeling of dining in some grandeur.
Shopping
Amsterdam is a great city for some retail therapy. There are some great little shops filled with quirky and unique wares, such as Droog which stocks its own design wares as well as some clothing and beauty product ranges. If you have an eye for the latest fashions, then head over to Van Ravenstein, where you will find rows and rows of the latest designs from Dutch and Flemish labels.
Any lover of shoes should head to www.cheapflights.co.uk/flights/Amsterdam/ and book their tickets right away – Jan Jansen has plenty of brilliant deals on some of the latest fashions. All of your bag and briefcase purchases require a visit to Hester Van Eeghen.
Eating and Drinking
Screaming Beans is a cafe and bar that is open all day and night, so grab a table and try some of the amazing dishes from the menu, such as the prawns with ginger, red pepper, orange and radish. If you want to eat a meal that will leave your stomach so full it feels like it may explode, head to Rijsel where the portions are enormous and scrumptious.
If you are looking for a light snack or treat on the go, Amsterdam has plenty of great little bakeries and stores for you to enjoy. Head over to De Laaste Kruimel for some delicious sweet treats such as the forest fruit bread pudding or the chocolate cakes.