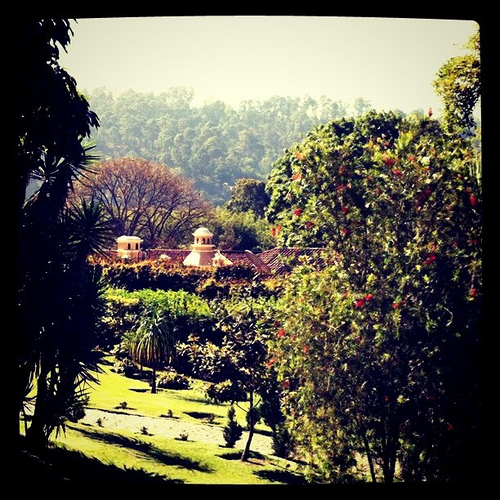 Despite its relatively small size, which is roughly equal to the state of Ohio, Guatemala is one of the world's leading producers of high-grade coffee. It sells about half of its coffee crop to the United States, but why just enjoy it at home when you can try it at the source and see how it's made? Read on to learn more about the best Guatemalan coffee tours.
1. Take the Historic Finca Filadelfia Coffee Plantation Tour in Antigua

Image via Flickr by Marcus Kwan
With a history dating back to 1870, Finca Filadelfia is one of the oldest and most established coffee estates in all of Guatemala. Over two hours, your English and Spanish-speaking tour guide will teach you about how the estate's coffee is grown and what makes Finca Filadelfia so special.
Visit the plantation's wet and dry mills, its roasting and packing area, and the tasting laboratory. The tour concludes with an informative coffee tasting session. Transport to and from the nearby town of Antigua is included in the $18 fee. TripAdvisor celebrated this tour's quality with a certificate of excellence in 2013.
2. Discover Exciting Projects at Neuva Alianza in the Western Highlands
An organic coffee plantation is just one of the attractions at Neuva Alianza, a cooperative run by forty families in the western highlands of Guatemala. The coffee plantation is on a 300-acre site that's home to tropical forests and cascading waterfalls.
The land also features a macadamia plantation, a micro hydroelectric plant, a water purification system, a biodiesel workshop, and a store where the families sell their handcrafted bamboo furniture and souvenirs. These diverse efforts all help the families of Neuva Alianza generate the income they need to survive.
This is a coffee tour with a difference, as you'll learn as much about the families' struggles and triumphs as the coffee making process. Their inspirational story and sustainable approach to life should inspire families, environmental activists, or anyone who's working their way through a 12-step rehab program. Tours are organized through Neuva Alianza, although English-speaking guides need to be booked in advance.
3. See the Sustainable La Azotea Cultural Center in Jocotenango
Discover a greener way to enjoy coffee at La Azotea Cultural Center, a music museum and coffee farm in one. The farm holds Rainforest Alliance Certification, which is a tribute to its initiatives which support the environment and community.
The one-hour guided tour starts with the music museum which showcases a range of historic Guatemalan instruments, costumes, and paintings. Then it's time to focus on La Azotea's main attraction, with a tour of the plantation highlighting its historic water wheel powered mill and new recycling and composting facilities. The farm is also home to 42 different shade trees. Most farms in this region plant just one variety, but La Azotea hopes its efforts will increase biodiversity and attract more birds and butterflies to the area.
La Azotea runs regular free shuttles that ferry guests from around Antigua to the small town of Jocotenango, about ten minutes away. You'll pay $7 for an adult pass and $3.50 for children. La Azotea also received a certificate of excellence from TripAdvisor in 2013.
When you return home the knowledge of where your favorite brew came from, and what it took to make it, will see your morning cup tasting that much richer.