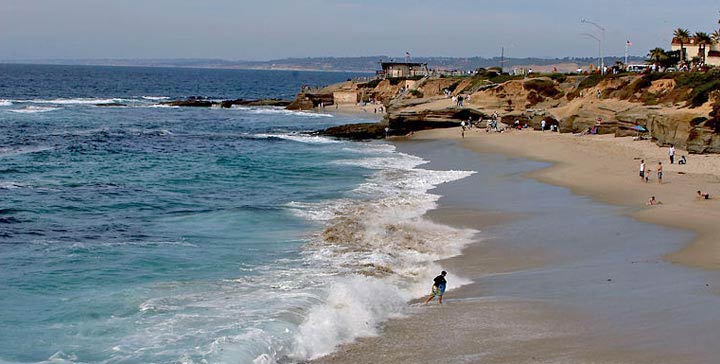 Ever wondered what would you do with your vacation time on the soft sand beaches of San Diego? There are actually tons of activities you can find in San Diego that will allow you to spend a lot of time out on the beach doing some of your favorite summer activities.
And, just like most other people who vacation in San Diego, you'll wish you had scheduled more time and won't be able to wait to get back!
In terms of activities that can be done right on the beach, there are plenty of choices you can easily fill your vacation with. From surfing, to stand up paddleboarding, to beach volleyball, these are just a few of the ways you can spend time enjoying the beaches of San Diego.
Surfing is one of the most popular activities out on the West Coast, as it seems to be a perfect representation of the laid back Californian lifestyle. If you are a big surfer, then you already know that San Diego is one of the premiere surfing spots, and home to some of the best surf shops on the West Coast.
If you have always wanted to try surfing, you will definitely have a chance on the beaches of San Diego. With numerous classes you can take to learn how to surf you definitely won't want to miss your chance to get started! There are also lifeguards on duty to ensure of your safety while you are out there, and it can be a really fun experience.
Another great beach activity that many people love to do around the world is stand up paddleboarding. Somewhat similar to surfing, it is much easier to get started with these new water craft; the adventurous can even take yoga classes which involve performing the exercises on a stand up paddleboard.
What is great about stand up paddleboarding is that it allows for you to take a nice relaxing paddle around the area without having to worry about waves. The boards are very wide so they are easy to stand on, and you will be able to explore some of the beaches and harbors with ease. Bring a backpack with a lunch and some water and you can have a nice picnic lunch right there on the beach.
Beach volleyball is yet another activity among that many visitors to San Diego love to play. With the number of volleyball spots on the beaches of San Diego you surely will be able to find a place to start playing with you friends or even other vacationers. There are many from hotels that know visitors love to try out beach volleyball when they visit, so they have put up play areas right on the beaches.
Of course, the best beach activity according many experienced San Diego vacationers is the incredible view from your favorite beachside restaurant, drinks in hand as the sun slowly slides beneath the Pacific Ocean!
The long sunsets and balmy days of San Diego makes the author book the quickest flight and best San Diego hotel package he can find!