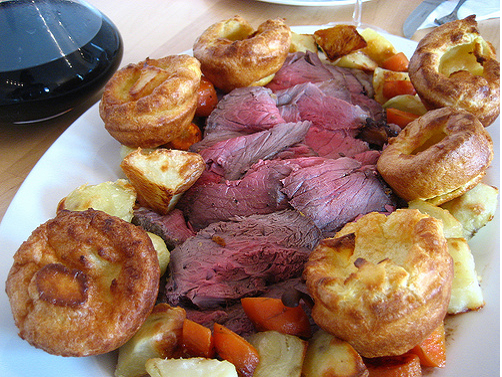 Sunday roasts have been a very British tradition for decades. It's when families get together and enjoy each other's company along with a filling, nourishing and delicious meal. Whether it's a lamb roast, beef or pork with crackling, there's something that's so good just thinking about these wonderful roast meals and all the delectable things that accompany them.
A British Tradition Enjoyed by All
But it's not just the British who love their Sunday roasts – for a long time now, visitors to the shores want to try for themselves the famous Roast Beef dinner they've heard so much about. The bonus being they don't have to wait for Sunday, because many restaurants around the capital as well as the rest of the country, serve up this best of British dishes on any given day.
Roast dinners today, are better than they have ever been with many restaurants serving up meat sourced directly from the producers. The same goes for all the trimmings that traditionally accompany them. This includes all the vegetables, the eggs that go into making the Yorkshire Pudding and even the horseradish that goes into making the sauce eaten with Roast Beef.
Roast Pork & All The Trimmings!
With the wonderful choice of meats, pork is right up there as one of the most popular roasts, especially when served with all the trimmings and the "must have" crackling, a great indication the pork has been cooked to perfection. Roast potatoes, carrots and cabbage with a wonderfully rich gravy and apple sauce are the perfect accompaniment for a traditional roast pork meal which makes this dish so timeless.
Succulent Roast Lamb – Minted Of Course!
Nothing beats succulent roast lamb when it is well prepared, and naturally it must be accompanied by mint sauce which is served with lamb in the UK to complete the perfect British roast lamb dinner ever. Roast potatoes, green beans and cauliflower served with the lamb together with a sumptuous rich gravy makes this one very popular British dish indeed!
British Beef & World Renowned Yorkshire Pudding!
Le Roast Beef will be forever one of the best meals a person can serve up on a table. Roast beef with Yorkshire pudding has to be one of the most famous British dishes people all over the world have heard about. Many visitors to our shores want to savour beef prepared the British way, and they'll never be let down when they do. Served with roast potatoes, cauliflower cheese, carrots and peas all drenched in wonderfully rich gravy and a dollop of horseradish sauce, this is one roast dinner that will stand the tests of time for years to come.
Roast Chicken & Bread Sauce!
Another wonderful dish, roast chicken served with all the trimmings and bread sauce is just so typically British. Seasoned with herbs and served with gorgeous roast veggies, it really does not get much better – not forgetting the gravy of course!
For a long time, English food was hammered for not being particularly good. However, over recent years this has all changed dramatically with an influx of tastes and wonderful ingredients included in traditional British recipes. Wonderful roasts that are synonymous with our shores will delight diners for years to come. No longer is the food thought of as "weird" and "tasteless" because today, roasts have never been so good, so nourishing and so well served.
Conclusion
For the uninitiated, the British roast whether lamb, beef, pork or poultry, is one meal that will never leave you hungry. Why not combine a trip to London with a British roast meal by visiting the Roast Restaurant in London Bridge.
A traditional meal, it has stood the tests of time and continues to be one of the most popular throughout the British Isles. Families enjoy their Sunday roasts; it's the perfect meal for the whole clan to enjoy on a weekend. Visitors to our shores can savour a superb roast dinner in many restaurants around the country. The trend has become so popular that eating out at traditional British roast restaurants will remain a favourite for a long time to come.
Image credits: adactio and Jeffrey.Teo