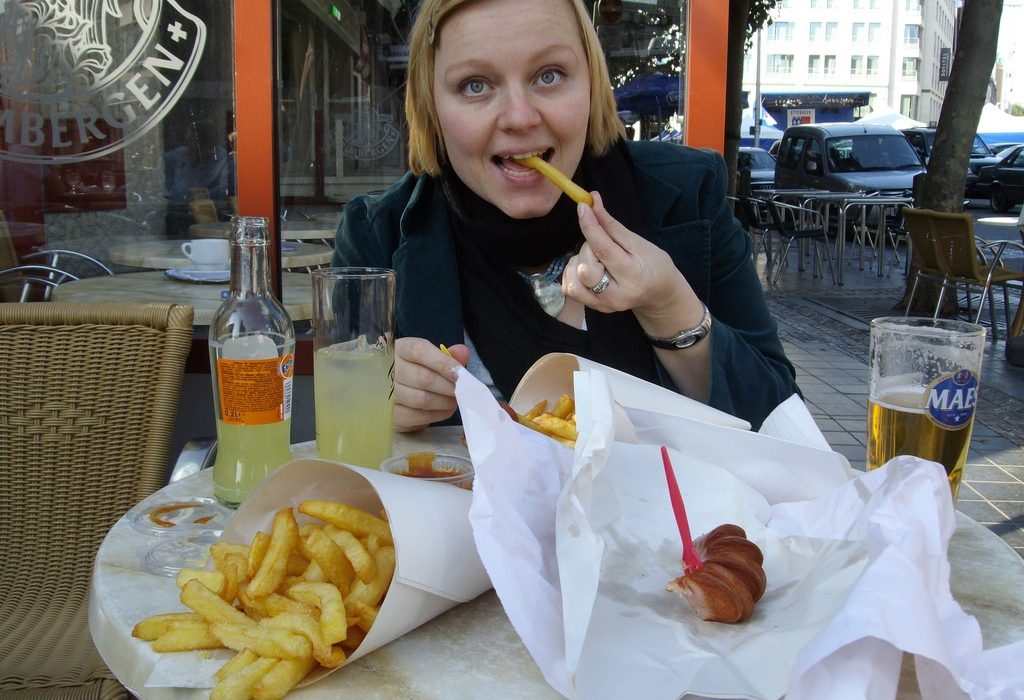 The capital of Belgium welcomes travelers with various delicacies in many local pubs, and the choice of restaurants and cafes in Brussels is simply impressive. More than 2500 excellent establishments offer places for having coffee, dinners and, of course, a romantic dates. Prices in catering establishments are also quite diverse: in some restaurants of the central part of the city you can eat for 20-30 Euros. However, you can visit such money-saving spots as pizzeria or a Chinese restaurant and spend just 8-14 Euros. So, where and what can you eat for cheap in Brussels? For those who don't want to cook on their own, but want to enjoy local dishes, cheap but cozy cafes and restaurants are open…
Kosmos Place
Located at Place Jourdan, Kosmos Place is a good and cheap spot to have a snack. The cafe is famous for the Greek cuisine and an excellent selection of wine. In addition, you can watch live football matches, ski races and boxing fights there. The Greek family, which owns the cafe, will provide you with a truly southern welcome.
Address: Place Jourdan 35, 1040 Etterbeek
Hours: Monday-Friday 6.45am-1am, Saturday 9am-3am, Sunday 9am-1am
Average rates: 8-15€
Noordzee Mer du Nord
It turns out that it is not necessarily to visit expensive restaurants to eat good seafood dishes. Noordzee Mer du Nord is worth visiting for those who are looking for a cheap cafe in the center of Brussels. This street cafe cannot boast of exquisite interior and helpful waiters, but this is the place where you can eat incredibly tasty seafood in Brussels without breaking your budget. Just order soup made of sea snails, grilled shrimps with garlic sauce or branded tomato soup and start enjoying delicious food! Unfortunately, a feature of the cafe is the lack of seating.
Address: Rue du Luxembourg 62, 1000 Bruxelles
Hours: Monday-Wednesday and Friday 9am-5pm, Thursday 9am-10pm, Saturday and Sunday closed
Average rates: 10-25€
Belga Cafe
Located on Place Eugène Flagey, Belga Cafe is another budget place to have a snack in Brussels. This cafe will delight you with a wide range of iconic Belgian dishes, and the price and quality of them will pleasantly surprise you. Snacks, lunches and coffee are in demand there. The dishes are cooked very tasty, and the order is served quickly: that's why there are always a lot of people in Belga Cafe. When the weather is warm, you can take an open-air seating. It's possible to have a good breakfast or lunch at Belga Cafe just for 5-8 Euros.
By the way, Cafe Belga is a great place to listen to live performances on a Saturday night and enjoy coffee with friends on a lazy Sunday afternoon.
Address: Place Eugène Flagey 18
Hours: Monday-Thursday 7.30am-2am, Friday 7.30am-3am, Saturday 8am-4am, Sunday 8am-12am
Average rates: 5-10€
Hector Chicken
Hector Chicken fast food restaurant is a place in Brussels where you can eat a variety of chicken dishes at very attractive prices. It offers large portions of crispy chicken and a huge selection of drinks, including wine and beer, which makes this spot popular not only among tourists but also locals. Excellent dinner will cost you there about 7-8 euros.
Address: Avenue de la Toison d'Or 6, 1050 Bruxelles
Hours: Monday-Sunday 11am-11pm
Average rates: 7-8€
Brasserie Horta
It's recommended to taste dishes of Belgian cuisine in the art nouveau restaurant 'Brasserie Horta' located on Rue des Sables. This ancient establishment is a perfect spot for lunch. The design and interior of the Brasserie Horta will surely impress you, because it's more than 100 years old. You can try there steak tartar, various salads or seafood. Also, this restaurant features daily special offers from 12 Euros. Despite the fact that the restaurant is open until 6pm, the last serving of hot dishes is not later than at 3.30pm.
Address: Rue des Sables 20, 1000 Bruxelles
Hours: Tuesday-Sunday 10am-6pm, Monday closed
Average rates: 12-20€
Gou
Another place where you can have a tasty meal for cheap is Gou café located in Brussels on Avenue Orban. It specializes mainly in European cuisine with an emphasis on meat and fish. Cozy atmosphere and delicious food are the main characteristics of this place.
Speaking of the menu, don't miss to order a stew with mutton, which is served in small ceramic pots. You'll have to be careful not to get burned – the pots are well warmed up for longer heat retention of the food. Portion is very large, so you can safely order one for two persons and ask for additional utensils.
It's also advisable to try carpaccio. The sauce that covers the slices of red fish is exceptionally aromatic and delicious. The price of the portion is 12.30 Euros.
Address: Avenue Orban 231, 1150 Woluwe-Saint-Pierre
Hours: Monday-Sunday 12pm-11pm
Average rates: 10-25€
As you can see, Brussels is not that expensive destination in terms of eating as it might seem at first. Along with fashionable Michelin-awarded restaurants, it offers small and cozy cafes, where you can eat just for 10-15 Euros. These establishments are a great solution for those who want to save a budget. Of course, it can be quite hard to find some of them in such a large city, but if you use Brussels car rental, it will be much faster and easier.