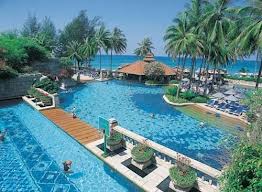 Recognized as the 'Pearl of the Andaman', Phuket is a gorgeous beach destination in Thailand. Offering visual delights to a huge number of tourists, it assures them a truly memorable experience. The city is full of palm fringed silky beaches, sightseeing points and several visual delights. If you are one of those who wants to enjoy adventurous activities and exciting nightlife, Phuket is a place for you. Travel on different islands using a speed boat or go for enjoying fun-filled beach parties, it has everything for a memorable vacation. Phuket gives several reasons to the visitors for visiting the destination. It also features cheap and luxury resorts for staying. Before flight ticket booking, go through the given information to know more about the best resorts in Phuket and be surprised at the wide choices available for you.
Offering wide option for comfort and lavishness, Peach Hill Hotel serves its guests with best of everything in a beautiful location where you can create wonderful holiday memories. Situated on the famous west coast of Phuket, this spa resort is cuddled between the mountains and the Andaman Sea. Surrounded with lush green mountain valley, the beach resort enjoys all modern amenities in a great ambiance and superb hospitable facilities. A stay in this resort is simply going to be incredible.
Phuket Heritage Hotel
Influenced from the colonial Sino-Portuguese era, Phuket Heritage Hotel is an architectural marvel that vividly radiates an exotic charm. Interior décor is comprised of traditional Chinese style of lacquered bamboo and original Feng Shui and offers all cool lavish comforts. Its rooms are abode of peace and luxuries and have given the touch of Thai flair. It has everything that one needs at their door steps for a memorable stay.
Sugar Palm Resort Kata Beach
If you are looking for a place to relax in style and luxury, Sugar Palm Resort, Kata Beach is the perfect choice for you in the heart of the most vibrant beach destination of Phuket. It is an alluring oasis of lavishly appointed rooms, warm Thai hospitality and best of contemporary amenities. Its interior décor is comprised of unique candy colored walls, chic furnishing and opulently outfitted accommodations. For offering an adorable beachside experience, it offers best of spa facilities along with many more facilities.
Avista Resort & Spa
Positioned on smoothly sloping land against a backdrop of lush green hills, Avista Resorts & Spa is a delight for the nature lovers. With reflective views across the Andaman Sea, the resort is magnificently designed to blend beautifully with its natural surroundings. The spa resort enjoys great views of sea, mountains and hills. Fulfilling your desire for a dream stay, it increases your chance of enjoying a memorable vacation. Excellent dining facility compliments other amenities of the resort.
Horizon Patong Beach Resort & Spa
Offering a great combination of price, services and location, this outstanding resort provides a relaxing and refreshing setting for its visitors. Welcoming wholeheartedly in a cheerful atmosphere, the resort offers a wide range of facilities to its guests including Thai massage to outdoor and indoor sports.
There are several other resorts and hotels in Phuket where one can choose to stay amidst all the luxuries and facilities. Identify the most appropriate one for you to relax during holidays.
Author Bio: Amrita Barnwal is an ardent travel blogger working for BookEasyTrip.com (a well-recognized travel agent of India). Being born in an Indian family and from a mass communication background, she has developed passion for writing especially on different aspects of travel and tourism. Amrita also exchanges innovative travel ideas through her blog BookEasyTripTravelBlog.com.