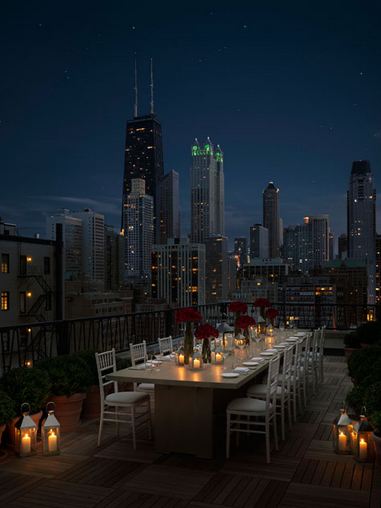 The third most populous city in America, Chicago is a bustling urban hub with plenty of interesting cultural, dining and shopping attractions to keep even the most adventurous visitor busy. From a vibrant poetry scene to a diverse range of high-quality dining spots, Chicago truly has something for everyone. Winters can be cold and windy, but Chicago residents pride themselves on keeping a warm nightlife going even through the chilliest months. If you're looking for Chicago area hotels, though, you may suffer from having too many choices.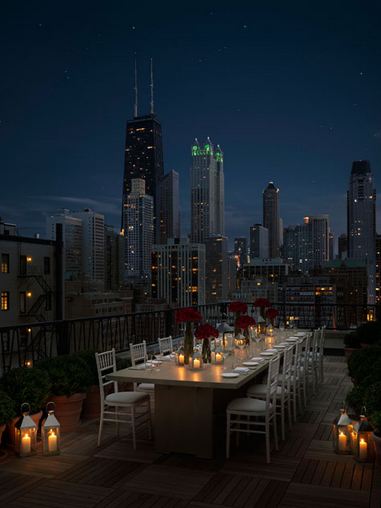 If you're planning a trip and craving a unique, luxurious hotel experience, consider PUBLIC Chicago, a new 285-room property situated near several parks and the beaches of beautiful Lake Michigan.
PUBLIC Chicago features old-style architecture with a modern feel, which completely fits Chicago's esthetic blend of tradition and contemporary edge. The building was originally constructed in 1926, and then received a modern upgrade in 2011. Today, PUBLIC Chicago features a spare, timeless design that gives the entire property a carefully considered feel. Design buffs will love walking into the soaring, softly lit lobby, then checking out sleek contours of the on-site bar.
Each of the 285 rooms is outfitted with several luxurious touches, including designer bedding, large 42-inch televisions and complimentary WiFi. The hotel has been designed using a "no color" palette, which means all of the rooms are designed in pure, stark whites and cozy neutrals. The low-key luxe design makes each room a perfect oasis to return to after pounding the pavement on the Magnificent Mile shopping district. In each bathroom, guests will find a total unique treatment: marbled floors in a mosaic style, plus Delft porcelain inspired accessories and custom-made Corian sinks.
Though Chicago is known for being a hungry traveler's paradise, you'll find several appetite-worthy dining options at PUBLIC Chicago. The hotel includes an onsite restaurant called the PUMP ROOM. The dining spot is overseen by award-winning chef Jean-Georges Vongerichten, and features simple, fresh meals involving locally sourced produce and ingredients. Meals are severed in a classically cool environment reminiscent of a 1940s supper club, and innovative cocktails are available in both the dining room and several stylish socializing areas throughout the property. If you're looking for a quick bite, PUBLIC also offers 24-hour gourmet meals on the go, plus an array of high quality snacks and drinks in each room's generous minibar.
The obsessive attention to detail at PUBLIC Chicago makes this hotel a natural spot for couples looking for an urban getaway, but the expansive property is also accommodating to larger groups or business events. Get your work done with a panoramic view of Chicago's famed skyline and work in inspiring natural light from the large windows. Gourmet catering services for meetings are available from PUMP ROOM, and your team can unwind and network with cocktails in the Library & Coffee Bar or Screening Room.
PUBLIC Chicago pairs modern style and luxury with traditional, timeless design elements to create an utterly cool, totally comfortable respite that's convenient to all of Chicago's major attractions.
All photos via PUBLIC.