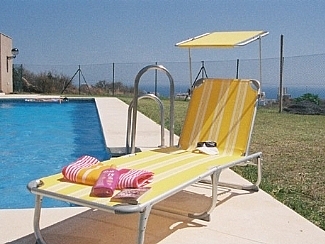 The Costa del Sol on Spain's Mediterranean coast enjoys a notable reputation for holiday making. A destination to which hundreds of thousands of people each year head, it offers an enticing mixture of seaside sunshine and socialising. But there are also quieter moments to be had, while those who enjoy getting active can also find plenty to keep them busy.
The beaches are obviously the main draw for many people and are a central part of the reason why the Costa del Sol developed its tourist industry. Of course, the beaches might not seem quite as pleasant if the weather was not so good. The Costa del Sol is well-named, as there are around 300 days of sunshine each year. Resort towns such as Fuengirola often possess several kilometres of fine, accessible beaches.
Beaches, Bars and Artists
Marbella is another town which has a great beach. This is a more exclusive resort than many and visitors can stroll among the rich and famous as they enjoy the town. Many beach clubs are present here, meaning that you can party all night at the sea shore, if the fancy takes you. It is also possible to spot a celebrity or two in the bars and nightclubs of Puerto Banus. From this town you are also rewarded with superb coastal views which stretch all the way to Gibraltar.
But it is worth remembering all the time that you are in the magical land of Andalucía too. This is the region of Spain which is home to the Flamenco tradition and in cities such as Malaga there is ample opportunity to explore the history and culture of this fascinating part of the country. The artist Picasso was born here and there is a great museum and gallery dedicated to the iconic Cubist and his work. The Museum of Wine is also worth a visit.
Explore the Seascape
For people who prefer to be a little more active, the sea off the coast is a superb natural venue for water sports of all kinds, whether you prefer sailing or scuba diving, wind surfing or swimming. The marvellous weather also makes the Costa del Sol a wonderful place to play golf and there are some great courses located all over the region. Water parks and other theme parks are also dotted all along the coast and are useful venues to know about, especially if you are travelling with children.
Great cuisine is also on offer in Andalucía, with seafood in particular a local speciality. Away from the more commercial coastal towns, it is still possible to find the older, quieter corners, where fishermen still bring a daily catch ashore. With a great range of local wines to enjoy as well, the Costa del Sol is a summer wonderland for holiday makers.
 About the author:
Tom Brown has lived in Spain for much of his life, though he is originally from Bolton, in northern England. He has spent many enjoyable holidays across Spain and has used Club La Costa for a number of his trips. He now shares his travel expertise with a wide range of blogs and websites across the internet.