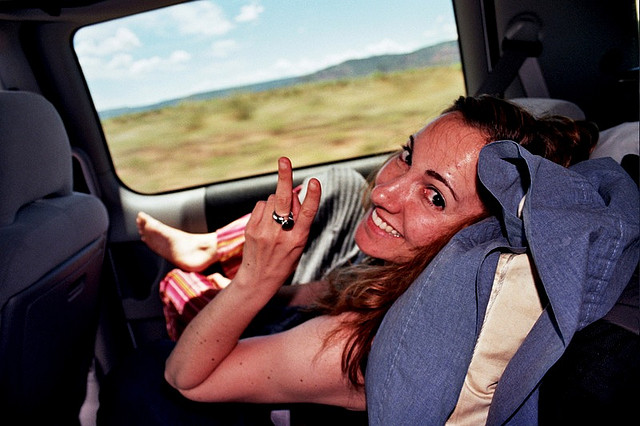 I found myself nostalgically perusing old photographs the other day. The treasured snapshots featured my closest set of college girlfriends and me being young, crazy and blissfully happy, before we started settling down, getting serious and focusing on the "important" things. Now of course, those same awesome girls are spread out across the country, and time and distance are starting to take their toll. Seeing those pictures I realize, it's time to organize a girls' getaway weekend and rekindle those adventurous attitudes, before they're gone for good.
Not that I'm trying to sound dour or morbid. But promising to hang out wasn't proving solid enough to actually force it to happen. So, I'm stepping up. I'm getting my girls together for a riotous weekend — a short enough amount of time to appeal to the busy and broke alike — so we can finally make good on all those well-meaning promises. Here's how I'll do it, and how you can, too.
Pick a Destination
Whether your ladies are music festival fans or hardcore fitness buffs, the first step in planning any trip is to choose a location. For my group, we spent many blistering summers on the shores of Lake Michigan. So, the Windy City is an obvious choice; plus, there are thousands of Chicago events to attend, some sentimental and some new. But, whether you're hanging out across town or across the world (there are loads of deals on all-inclusive destinations, ahem), you have to know where you're going.
Pick a Theme
If you're stumped on where to go, deciding what to do may be a better first step. A theme for the weekend helps direct all other decisions, from where to stay to what to eat. Because my friends share memories of sunbathing on the beach, my theme is "Summer in the City." I'll plan activities that embrace the sunny outdoors and fabulous weather. Maybe your theme is one of sinful indulgence, so Las Vegas makes sense. Or, maybe flexing your muscles and trimming the tush is more your speed; a yoga retreat or boot camp could be just the ticket.
The great thing about beaches and boot camps is they are relatively inexpensive activities and are found in myriad locations, making it a cinch to find one that suits any budget. And don't forget: Playing tourist in your hometown — a "Staycation" — is a great way to save money and enjoy some serious bonding time if your girls are all local.
Pick a Main Activity
I want my girlie weekend to be pretty relaxing, but I will plan at least one rallying main event. Big doesn't have to mean spendy, though. The best thing about summer in Chi-Town is all the fantastic festivals, many free, where you can hear great music, drink refreshing (adult) beverages and chow down on native foods.
Maybe you want to be a busy little bee on your weekend; that's fantastic! But, there should be one main activity that riles up your group into frothy anticipation. It can be a night at a dance club, a tasting menu at a fancy restaurant (save money by checking for cities that host "restaurant week." You can hit upscale joints at a fraction of the price) or even a challenge like a 5K race.
I'm saving money on my girls' getaway by spending most of the vacation relaxing on a bath towel and exchanging juicy gossip with my friends. Staying at a local bed and breakfast with great rates, packing inexpensive but delicious sandwiches for the beach and limiting the trip to just two nights ensures it's viable for everyone in the group. After all, the point is to revitalize friendships, not break the bank. Now, it's your turn.