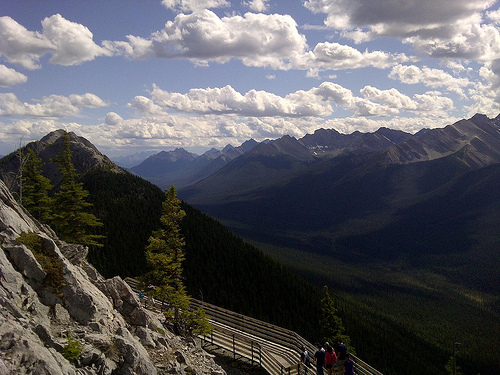 Banff was Canada's first national park and is quite rightly famous for its beautiful landscapes with endless mountains, lakes and wildlife offering untold options for travellers.
If you're hoping to discover a wonderful world of outdoor action, all-year-round, then check out the awesome things to do in Banff that are highlighted below and prepare to be blown away by some of the most beautiful sights on the planet.
Ski and board
Banff has three resorts that offer some of the best skiing in Canada. Lake Louise covers over 4000 miles, while Sunshine Village offers some of the most challenging terrain in the country. Mt Norquay is one of the oldest resorts in the country. A tri-area ski pass will give you access to all three, which means you can frolic in the chutes, bowls, steeps and terrain parks as well as take on the huge number of runs.
The Banff Gondola
It only takes 8 minutes to reach the top, but during that short time you are taken 7,500 feet up Sulphur Mountain. The views become increasingly spectacular as you climb 698m to the summit upper terminal and it is the best way to see the mountains of Banff. Remember your bathing suits as once you reach the top there are hot springs to enjoy. If you would rather not get wet, there are other things to do at the top, including a 1km summit walk that leads to the Cosmic Ray Station National Historic Site of Canada, and the historic Sanson's Peak Meteorological Station.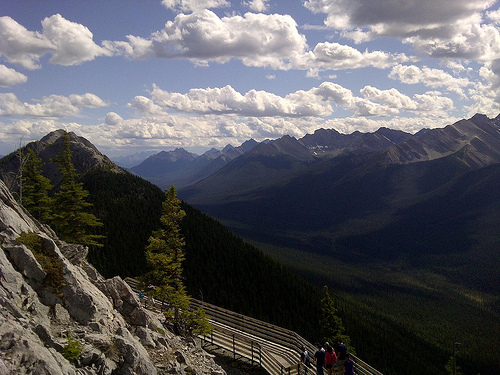 Lake Minnewanka
This popular glacial lake is 13km east of Banff. It is the longest of the lakes in the mountain parks of the Rockies, offering plenty of hiking, swimming, sailing, boating and fishing opportunities. To get a good view of the whole surround, you can walk around the perimeter on an easy, flat trail. If you have a bit more energy in you, a hike up to the Alymer Lookout will give you some great views. Scuba divers may also be interested in the submerged village and bridge pilings – a result of the dam built in 1941 that raised the lake 30m.
Columbia Icefield
If you have ever wanted to experience life on top of a glacier, here is your opportunity. The Columbia Icefield Glacier Experience is one of those Canada tours that cannot be missed. Six-wheeled, all-terrain vehicles drive straight onto the Athabasca glacier, which is 6 kilometres long and 1 kilometre wide. Tour guides can explain more about how glaciers are formed and identify different geological formations. You can even step out onto 200 year old ice.
Grizzly Bear refuge
This is the world's largest enclosed and protected grizzly bear habitat. To reach the centre you take a 15 minute gondola ride into the heart of bear country. Visitors are then given the opportunity to see how bears live in the wild; foraging, hunting, playing, swimming, snoozing and exploring. It is a great educational experience for kids, or indeed anyone who is interested in the grizzly bear.
Icefields Parkway
You don't even need to get out of your car for this one. It is the drive of a lifetime, through 142 miles of stunning scenery. It connects Banff National Park to Jasper National Park, taking in Lake Louise as well. There are endless glaciers and mountains as well as alpine lakes.
Whyte Museum of the Canadian Rockies
Located in Banff, the Whyte Museum has masses of research and education materials relating to the cultural heritage of the Rocky Mountains. It is particularly well known for its art exhibits and features many of Byron Harman's photographs; a pioneer photographer of the mountains around Banff, there are some incredible shots of the Rockies.