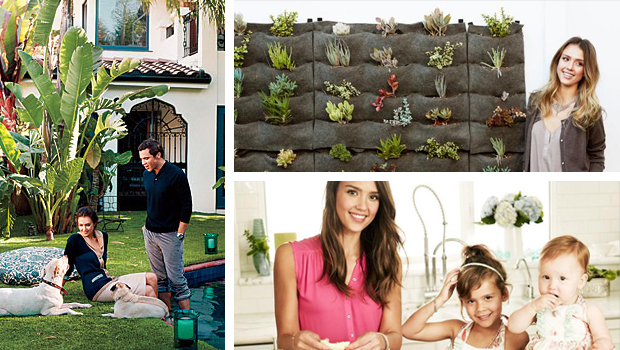 Jessica Alba is known for playing tough characters like Invisible Woman in the Fantastic Four and Max Guevara in the popular James Cameron series Dark Angel back in the 2000s. Alba is not one to let her fame go to waste. She has used her popularity to raise money for various causes that she supports and Alba is actually a staunch environmentalist. Alba even appeared before the U.S. Congress to lobby for the Safe Chemicals Act.
Now a mom to two daughters, Honor and Haven, her focus is to create a healthy environment for her family. Her search for information on how to create this safe environment has led her to found a company called The Honest Company. The company sells toxic-free household baby products like diapers and wipes as well as personal care products and eco-friendly detergents and hand soaps.
Not only has she created a company that sells eco-friendly and toxic-free products, she has also written her first book called The Honest Life. In the book, she shares her tips on eco-friendly living and how to avoid everyday products that contain a lot of chemicals harmful to one's health.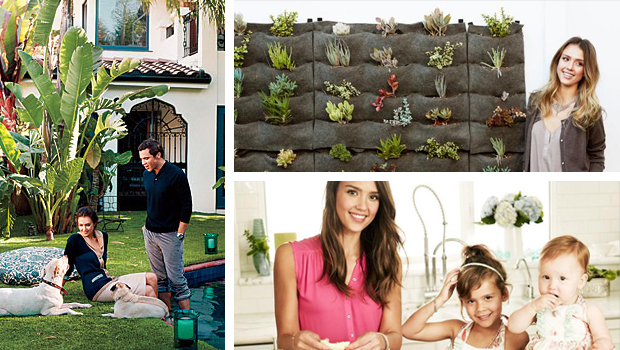 Her dedication to the environment doesn't stop with helping others make environment-friendly product choices though. She made sure her own home is a reflection of these beliefs as she went to great lengths to ensure an eco-friendly and toxic-free living space. She opened her doors to DomaineHome.com and this has made it possible for people who want eco-friendly home ideas to regard her home as an inspiration.
Let's take some ideas for your next home renovation project from Jessica Alba's eco-friendly home in Beverly Hills, California and her book The Honest Life. These ideas will help you renovate your home from traditional to green home in a few very simple steps.
Alba is a fan of Craigslist and she got furniture for her home from scouring that site. By buying or using old furniture, no new trees are cut down and no energy is wasted to build your new furniture. Alba told Domaine Home that she prefers mid-century furniture and that she likes how old furniture pieces have stories behind them and that these pieces had lived through a previous time and era. She has also picked up an antique dresser for her daughter from a flea market and an old armchair originally owned by F. Scott Fitzgerald.
volatile organic compounds (VOC) on paints and coatings are bad for the environment because they help in the formation of smog and are bad for the health because they're linked to respiratory illnesses. Alba used Non-VOC paint for her home and doing this helped her avoid the negative impacts of regular paint.
Go for Non-toxic Furniture:
Alba commissioned a local carpenter to create living room couches stuffed with nontoxic fillers and covered with grey velvet free from toxic flame-retardants that usually cover most store-bought couches.
I hear you ask how using fake turf rather than the actual living grass that give off oxygen is more environment-friendly. But, regular watering and lawn maintenance can take a toll on the environment. Your household consumes less water that would have gone to watering the lawn if you use fake turf. Also, you don't have to burn a lot of gasoline every week to run the lawn mower to keep the lawn pretty.
Go for Energy-efficient Appliances:
In an interview with Sierra Magazine, Alba says she has energy-efficient appliances at home. Using energy-efficient appliances help you cut down on your household's carbon footprint and also save you money because these lower your electricity bill. The Environmental Protection Agency's Energy Star program has a list of appliances that are highly energy-efficient so choose these products when it's time to upgrade your appliances.
Use sustainable Materials:
When you do a major renovation of your home, a trip to the hardware is inevitable. Alba told Sierra that she made an effort to use sustainable materials for her home. These include bamboo flooring and recycled glass tiles. Some of these come from demolished houses and using them saves a ton of material that would otherwise go to landfills.
Those six eco-friendly tips come directly from Alba herself as she has discussed them plenty of times in several interviews. However, you don't have to rely on these tips alone—you can take more steps to make your home even greener! Here are seven more ideas you can use to create your eco-friendly home.
Install Energy-efficient Boilers:
Home heating consumes a lot of energy. Installing energy-efficient boilers can help you reduce your energy consumption significantly.
Clean or Replace Air Filters:
This is an easy step to make and can be done in a few minutes for each air conditioner. Clogged air filters make air conditioners work harder so these consume more energy. Clean or replace the air filters once a month or more during peak times like summer.
If you tint your windows, you cut the heat inside your home and you don't have to turn on the air conditioner as often as you used to.
Keep a Toxic-free Home by not using Pesticides:
Spraying your home with pesticides to kill bugs obviously spreads chemicals around the house, even though manufacturers swear these are safe for humans. Instead, focus on prevention like keeping your home clean or your trash cans sealed tight so pests like rats and cockroaches are not attracted to your garbage or leftover food. You can also install screens so mosquitoes don't enter your home.
Choose Light-coloured Roofing Materials:
The more sunlight your roof reflects, the more heat it keeps out. Choosing light-coloured roofing materials when you renovate your home can help you keep your home's temperature down so you don't have to waste energy to cool it.
Go for Filtered Tap Water Instead of Bottled Water:
Drinking filtered tap water instead of bottled water reduces wastes from the plastic water bottle. A study from the Environmental Working Group tested 10 popular brands of bottled water and found that these had contaminants at levels similar to those found in tap water so you're not getting a "cleaner" water as many think when they buy bottled water.
If you didn't buy so much stuff you didn't need, you wouldn't have to throw away as much as well! And guess what? You also get to save a lot of money by buying less stuff that don't give you value anyway! Who would've thought?
Jessica Alba's eco-friendly Beverly Hills home serves as an inspiration to anyone who wants to undertake their own home renovation project. Give these ideas a try and you not only save the environment, but you also a lot of money on your utility bills.