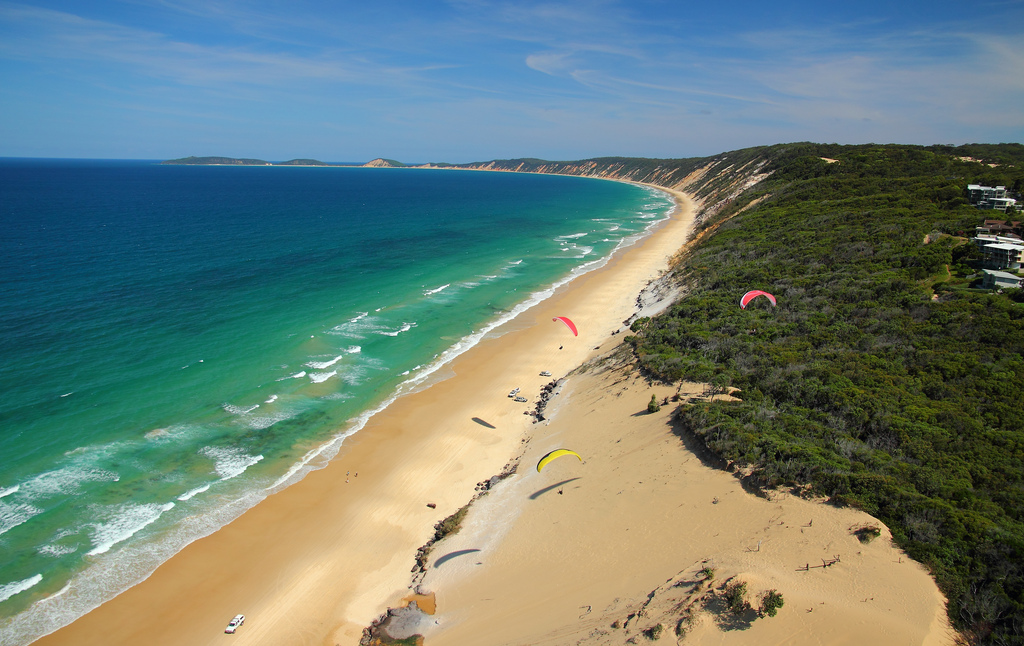 Discover miles of pristine sandy white beaches, freshwater creeks and lakes and spectacular sandscapes at Rainbow Beach. Situated an hour's drive east of Gympie, on Cooloola Coast, Rainbow Beach offers everything for an ideal getaway or holiday. The name Rainbow Beach comes from the rainbow coloured sand dunes which surround the area. The colours come from the rich mineral content of the sand and make for a beautiful and unique sight. The surf, sun and sea breezes compliment the wide range of activities that are available in Rainbow Beach.
Rainbow Beach in Queensland Australia provides a wide range of accommodation, attractions, events, dining, and activities. Whether you're searching for a peaceful getaway or an active holiday, Rainbow Beach is the perfect destination. Below are some of the things you and your family can enjoy in Rainbow Beach, Queensland.
Fishing
Some of the fish species which you'll encounter are Snapper, Red Emperor, Sweetlip, Pearl Perch, Cobia, Parrot Fish and of course seasonal species like Wahoo, Mackerel, Amberjack, and others.
There are a wide variety of good kinds of fish well worth fishing in this area, they are also very delicious. Do not worry if you're not an owner of a boat or you've never fished before, you can book a chartered boat tour where skilled fisherman will guide you and your family out and show you around their boat and the area, where you can catch the best fish and the fish that are in season.
You can also crab and fish the estuaries in Tin-Can Bay Inlet, through the Inskip Point area and up the Great Sandy Strait from the Bullock Point or Carlo Point boat ramp.
Bush walk through the extensive national parks of Cooloola
Cooloola has several lengthy walks including; the Cooloola-Wilderness-Trail that has a total distance of 48 km one way that takes three to five days to finish; and the Cooloola Great Walk that has a total distance of 102 k, one-way takes five to six days to finish. This walk should not be attempted without the topographic map. Short walks are; Poona Lake, 4.2km (return) and takes around 1.5 hours; Seary's Creek, 200 meters (return) and takes 10 minutes; and Freshwater Lake Circuit, 4.8 km (return) and takes two hours.
Tour Fraser Island
Tour this beautiful Island to be dwarfed by the gravity defying rainforests which grow out of the only sand and to explore the freshwater lakes and formations and spectaculars of one of the biggest sand islands on earth.
4WD car adventures here explore crystal clear streams and lakes, dense forests, wide windswept beaches, dingoes, multi-hued rock formations and sacred aboriginal sites. Seventy-Five Mile Beach is the main thoroughfare of the island and offers access to attractions like Eli Creek, the Maheno shipwreck, the coloured sandstone cliffs of The Cathedrals and the bubbling rock pools of Champagne.
Top tourist attractions inland include Lake McKenzie, Lake Wabby and the rainforest of Central Station. Whales, tiger sharks, and dolphins swim in the wind-whipped waters, and the fauna of the island includes wild horses, over three hundred bird species and Australia's purest strain of dingo. You can access Fraser Island by ferry from Hervey Bay and Rainbow Beach. Since the Island lacks sealed roads, 4WD cars are essential.
Go camping
The picturesque nature and beauty of Rainbow Beach lends itself to an amazing place for camping. There are several locations:
Teewah Beach

camping area provides beach camping without any formally defined camping sites;

Poverty-Point

camping area provides undeveloped coastal camping which overlooks the serene, tidal waters of the Tin-Can Inlet;

Freshwater

camping area offers shady, sheltered camping sites set amongst the scribbly gum woodland around 500 meters inland from the beach.
You should note that domestic animals are not permitted in the Great-Sandy National Park. Camping is also available at the caravan parks in Rainbow Beach.
Feed dolphins
Nature lovers will be delighted to know that wild Australian Humpback dolphins are regular visitors to Rainbow Beach. You can get close to them on a ferry cruise or on a sea kayaking tour. You can hand feed dolphins in Tin Can Bay. The dolphins usually arrive early so you should be there sometime between 7.00 am and 8.00 am. Once the dolphins are fed they normally go back to the wild to get on with their day.