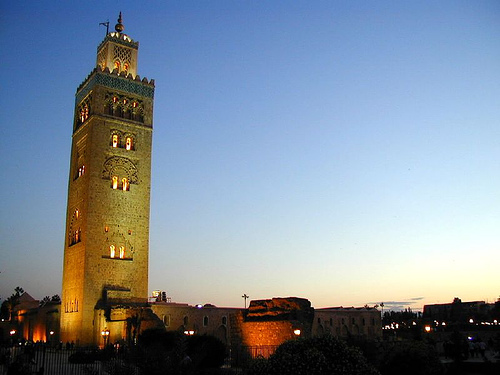 When it comes to culture, Marrakesh – North Africa's tourist hotspot – has an abundance. Not only does it attract millions of tourists every year due to its amazing climate and hospitable locals, but there's so much social diversity that it's the perfect place to take the whole family. Marrakesh is gem of Morocco, and if you're looking for vibrant nightlife, historical architecture and exciting markets, then this is the place to be.  Not matter what time of year you visit Marrakesh, there's always fantastic attractions to experience, so before you jet off, let's take a look at some of the best.
Cuisine
You might not consider North African cuisine to be an attraction when visiting Marrakesh, but once you try out some of the traditional dishes on offer, you'll certainly change your mind! Food in Marrakesh is as diverse as the culture, and from souks and street vendors to luxury restaurants, there's ample opportunity to excite your taste buds. It's not just the dishes that highlight the cuisine experience in Marrakesh; where you eat is also important. The city is one of the most beautiful places in the whole of North Africa, and with such fantastic surroundings, where you choose to eat can really amplify your meal. Highlights include the Pavillion and Narwama.
Modern Art
Marrakesh is a very traditional city, entrenched with history and culture. However there are some modern elements to the Moroccan capital too, most notably the art scene. From music and theatre venues to street performances and painting classes, there's so much to get involved in when touring the streets of Marrakesh. Not only is there a growing commercial gallery scene, but many of these spaces allow upcoming artists to show off their work, with some even attracting international attention.
One of the premier art galleries in the city is Dar Cherifa, and there are parts of this building that date back to the 16th century! Restored over a number by owner Abdelatifben Abdellah, there are some great weekly exhibitions on show here, with most of them offering free entry. Galerie 127 is another popular art gallery, and there are international pieces on show here as well as local works.
Get Leathered
Not literally, although the local drinks here are very tasty! There are many specialist leather retailors in Marrakesh, and from the souks to individual shops, you'll easily be able to find a leather number to suit your style. From shoes to coats, wallets to bags, the market for leather in Morocco turns over huge profits every year, and just like the sellers at the street markets, be sure to barter down the price to ensure a great deal! Speaking of great deals, find cheap flights to Marrakech here.
Belly Dancing
Unlike many places in Europe, belly dancing is a tradition in Marrakesh, and also a part of the city's culture. From bars and clubs to restaurants and other entertainment venues, belly dancers can be found everywhere, and in some cases it can be considered rude not to accept a dance!