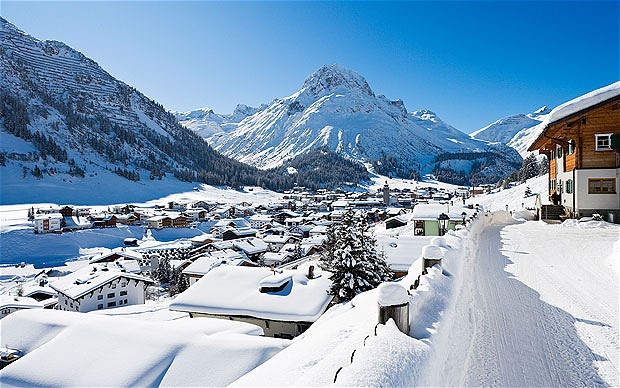 Visiting your favourite winter wonderland can be one of the best holidays you take all year, despite the biting cold and black and white landscapes. Vacationing in the cold months can take you up snow-covered mountains or through iced plains, allowing you to ski, snowboard, ice fish, or simply curl up in front of a fire with freshly-brewed vin Brule. Whatever it is you hope to find on your winter trip, one fact remains true – you must dress appropriately. Unfortunately, traveling in the cold has the negative drawback of requiring you to bring along bulky pieces of clothing and pairs of shoes that can literally weigh you down. What is the best way to back for those beautiful winter getaways?
Lech Ski Resort, Austria
Check it
We have all seen the new fees tagged onto seemingly cheap airline flights- the backhanded way airline companies today are attempting to make money. Luckily, a couple airlines still have free or low-priced luggage check in policies for domestic flights, like JetBlue and Southwest Airlines, while most airlines still allow one piece of 50lb luggage free on long-distance, international flights. Because, odds are, one of your winter jacks could easily take up most of the space in the small carry-ons that are universally accepted on flights for free, checking a larger bag is a necessity for winter travel. Besides, the stress of jam-packing your small carry-on will take away from the relaxed feeling you were most likely searching for on your winter getaway.
Prioritize
Although many of us would like to show off our best wares when on vacation, it is unfortunately rather unrealistic to think you can bring your new jacket, new boots, and snazzy sweater for going out along with your tried and true cold weather gear. Think about what you will be doing on your vacation and how many outfits you will need for those occasions. If you are only going to be in town one weekend night, you probably don't need multiple outfits for evening events – or those beautiful, but bulky, high-heeled boots. Remember that some things, like underwear and socks, are needed EVERYDAY and will inevitably be the things you regret not having brought more of. If an unplanned occasion does turn up, you can probably pick up a nice new accessory or piece of clothing that can both fit the event and serve as a nice souvenir of the trip.
Layer
Layering your clothing during winter trips is smart for three reasons. Firstly, it allows you to keep warm – a definite priority during the coldest months of the year! Secondly, layering allows you to be prepared for a myriad of climate situations. As we know, temperature indoors is often radically different than that outdoors, and can vary greatly when touring a town or walking in and out of shops, restaurants, and museums. Layering makes you prepared for a range of temperatures, allowing you to easily remove a piece when it is a bit warmer and quickly put another on once the temperature drops- all while maintaining your impeccable taste in style.
Try and pack shoes that are multi-functional; can be worn indoors but suitable for the great outdoors, too. Lastly, it is easy to switch up your outfit using just a few pieces of layered clothing or even the same combination of pieces in a different ordering. This allows you to be more dynamic with your outfits without having to bring a million different pieces.
Roll It
Suitcases can actually hold an incredible amount of stuff. In fact, I almost always have problems keeping them under the weight limit, not the size limit. The best way to pack your bag full is to roll your clothing into little tubes. This minimizes the space they take up and better safeguards them against wrinkles. In addition, anything you are bringing with space in it can be stuffed, like placing sock rolls into shoes, for instance. This obviously saves space but also helps maintain the shape of whatever is being stuffed so that it is not crushed in your tight suitcase. Tried and true, this is how the US military trains its soldiers to pack for journeys.
I often say that you must visit every place twice to really see it – once in the warm months and once in the cold months. There is a great deal to appreciate in the winter and you don't want to miss it over packing fears! Checking a bag, prioritizing your belongings, layering for climate control, and rolling and stuffing them in the suitcase will guarantee you bring everything you need and can completely relax knowing you are prepared for your winter getaway.