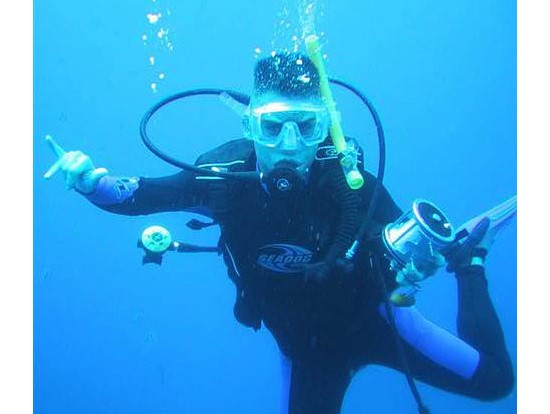 The more you know about diving, the more you'll enjoy your first trip! Nothing can compare to exploring the underwater world. It's difficult to prepare for an experience so unique – there is just so much to plan and consider. This quick guide will help you focus your preparation efforts on the most important part of the dive: safety.
Putting Safety First
Even the most serene, crystal-clear waters can present divers with considerable risk. From panic to equipment failure or even injury from aquatic life, there are many dangers to consider. Learning "all there is to know" about diving safety would take decades of experience. Still, with the right precautions, beginners can have successful and enjoyable dives right from the start.
1. Choose the Right Setting
First-time divers should never dive without professional assistance. Most beginners like to start with a newbie-friendly scuba tour to ensure that every part of the trip runs smoothly.
The ideal beginner level tour would include all the necessary equipment (regularly inspected by a professional), a quick introductory session in shallow water to help divers learn to operate the equipment, and a full scale dive in a shallow low-difficulty course. If heading to Hawaii, you might want to consider scuba diving in Waikiki at the very beginner friendly Hanauma Bay nature preserve.
2. Research Diving Safety
Diving safety is a wide topic, and the amount a diver needs to know could fill a book. That's why we suggest starting with basic scuba diving guides and histories to get a good idea about the techniques and risks. Take some time to learn the etiquette that goes along with diving culture. Contact the tourism authorities at your destination point to learn the diving laws. Learn the standard diver-to-diver hand signals and other safety basics.
3. Practice, Practice, Practice
What happens if your mask falls off while you're underwater? What if something snags your regulator and it falls out of your mouth, or worse, ends up broken and floating in the murky water? Practice various recovery techniques while in a pool. You can also practice using safety devices like surface markers and pony bottles, so that you'll be ready if you encounter an obstacle.
4. Learn How to Plan a Dive
Most beginner-friendly tours will plan your dive for you. You and your diving partner will be responsible for following those rules. Still, if you are unsure, you might want to get a jump-start on learning to coordinate a dive with a partner. You'll need to coordinate factors like max depth, max time in water, what to do if separated, and you will also want to exchange information about your respective experience levels and comfort zones.
5. Pack the Right Gear
Your tour provider / diving instructor will most likely provide a required equipment list long before you show up to your destination. If you do not receive a suggested equipment list, make sure to ask for one. The tour company may require divers to bring their own spare parts (for fins or mask), a compass, rash guards, etc. Don't forget sun safety – bring the highest SPF sunscreen you can find, and wear it even if you are diving on an overcast day.
Other helpful items to pack might include a waterproof box to hold your insurance and emergency contact information. Keep one copy on your person at all times, and give the other copies to your dive leader. You may want to pack a copy of your aquatic life guide so you can review the potentially hazardous species before you hit the water.
Finding Study Materials
Your tour company should always be the first place to look for advice. Every dive location presents unique obstacles and experiences – the best place to find localized advice is from the local dive tour operators with first-hand knowledge. Most tour providers will email a copy of any educational pamphlets or recommended dive manuals they may have.
So why wait? Between planning the fun stuff like shore excursions and dining experiences, make time for those all-important safety considerations. It is never too soon to begin and you'll never run out of new questions to answer. Start learning about scuba safety and make your first trip an adventure filled with relaxation, excitement, and amazing memories!