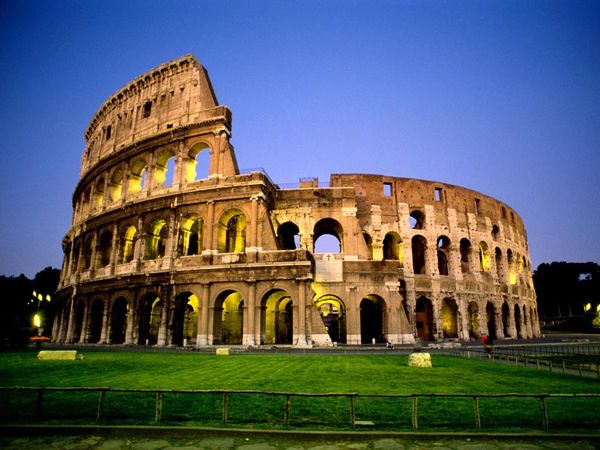 Rome possesses a rich cultural history that has long enthralled travelers. In this city filled with ancient architecture and with a reputation for glamour, there is much for visitors to see. Like any large city, Rome is constantly changing so that there are always new experiences; still, there are many older sights that all visitors should experience at least once. They include:
Looking for the truly Roman experience? You may find it here. This district is located south of Vatican City and provides insight into the day-to-day life of Rome's residents. You can visit the pubs and restaurants patronized by Romans instead of those places elsewhere in the city that cater mainly to tourists. Wandering its narrow cobblestone streets can provide you with sights and experiences that other visitors may miss and an ambiance that many consider quintessentially Roman.
Exploring Piazza Santa Maria
One of Trastevere's main attractions, it is active 24 hours a day but really comes to life at night. You can see street performers, eat at its sidewalk café or just walk around and people-watch.
Shopping at Porta Portese
The Porta Portese flea market is held every Sunday from 6AM to 2PM. Here, you can see merchants of all sorts hawking a variety of merchandise from artwork to old books. If you want a unique souvenir of your Italian journey this may be the place to find it; however, you will need to be an experienced shopper with advanced haggling skills to get a good deal here.
Arguably, this is the best-known sight in Rome. This status is not without merit as it is also the largest existing Roman amphitheatre in the world. It stands as a remnant of one of the world's greatest civilizations and is well worth the visit. Note that it is very popular so the lines and the wait to enter may be lengthy.
Shopping at Campo dei Fiori Markets
This marketplace is located near the Piazza Navona and is where residents have come to buy their foodstuffs for almost two centuries. As it is a functioning part of everyday Roman life, it is not particularly geared towards tourists; however, that does not mean that you cannot enjoy it. You can get the ingredients for your own meals if you have a kitchen, or you can just walk around and watch vendors and shoppers interact.
Viewing the Villa Borghese Gardens
This is central Rome's largest garden complex and features ponds, a zoo, gazebos and even a track that you can run on if you want. The gardens occupy 226 acres of land that was originally a vineyard; they date back to the 17th century but were renovated in the 19th.
This area is a must-visit for serious fashion shoppers while also being picturesque enough for sightseeing. Not only are there lots of boutique shops catering to those seeking unique and expensive items, there are hip restaurants and bars as well. Note that building numbers run consecutively here, so odd and even numbers are on the same side. This can make it difficult to find a particular address.
Observing on Gianicolo (aka Janiculum)
This is the second tallest hill in modern Rome, but offers the best view of its ancient architecture. The view it provides makes it an ideal spot for photographers and the Gianicolo also offers a fountain that dates back to the 17th century as well as monuments to the Italian Hero, Giuseppe Garibaldi.
Admiring Fontana di Trevi
The word "Trevi" is defined as a place where three roads intersect. In this case, the roads are the Via della Muratte, the Via Poli and the Via del Lavatore. The Trevi Fountain was built in 1732 and is arguably the most beautiful fountain in the world; it is one of the must-see sights in the city, on par with the Colosseum.
These are just some of the many things you can do while visiting Rome. If you want to get the most out of your time check out the private tours of Rome. These tours can be done in one day and visit many of the most beautiful spots in Rome.