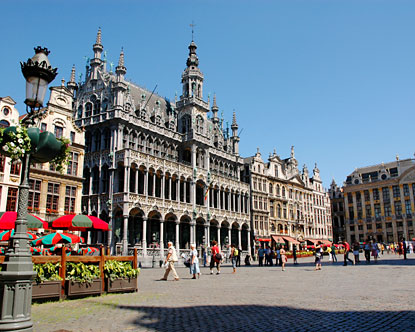 Brussels is a region which is officially termed as Brussels Region or Brussels-Capital Region. It is the capital of Belgium and is the largest urban area in Belgium. The region has massively grown from a tenth century fortress town and today accommodates 1.1 million of population. This region has a history of Dutch-speaking population which has widely shifted to French right since the Belgian Independence in the year 1830.
Climate
Brussels is located at a proximity to coastal area and sends marine air masses directly from the Atlantic Ocean. It is also surrounded by nearby wetlands which widely influences the climate of this region – maritime temperate climate. Approximate rainfall a year is recorded at 200 days on average in the Brussels-Capital Region. Snowfall comes between the months of October and April.
When you visit Brussels, don't miss to explore its attractions which worth a lot. Brussels has greatly developed and features wide range of fascinating buildings or architecture. Below given are the top 5 Brussels attractions –
Grand Place
It is a town square which is bordered by old buildings towering. Earlier, this place was the hub of execution of the prisoners which today changed into an amazing tourist destination. This site is often used as a venue for celebrating cultural festivals. The major attractions are three buildings that can be visited by tourists – Town Hall, Trade Buildings and House Kings. This site has listed itself on the UNESCO World Heritage Site.
Manneken – Pis
It is a statue of a little boy a great attraction where it keeps pissing constantly. Many legends surround the existence of this statue. One of them is said to be a small boy with name Juliaanske is fusing the bomb by pissing on it. This small statue has retained more than 600 costumes which are used over the years including Santa costume for Christmas. Today, not only the water is used as piss, but Belgian beer and syrup is often used.
Brussels Town Hall
This was once regarded as the Grand Palace, a grand hall tower adorned in gothic style. This building was constructed during 1400, remarkably representing itself as a statue of St. Michael whom is depicted as destroying the demons. Exploring this attractive building will take you to its history that is uncovered by the arched windows, towers and sculptures.
Mini-Europe
It is actually a miniature park located in Bruparck, right at the foot of Atomium in Brussels. This park represents around 80 cities and 350 buildings and hosts several live action models as well including eruption of Mount Vesuvius, train, mills, cable cars, and Airbus. Find cheap tickets in seconds, take a guided tour of this attraction and see what it has to offer. The Spirit of Europe exhibition is a fascinating piece of art where you get to enjoy an interactive overview of the European Union via multimedia games.
Heysel Park and the Atomium
Heysel Park is a recreational and leisure park located in the west of Brussels. This attraction is redesigned since 1985 when the European Champions Cup tragedy occurred. After redesigning, this attraction was renamed as Stade Roi Baudoin or the King Baudoin Stadium. Atomium is among the major highlights of the park that stands at an elevation of 102 meter. It is a high model of atom that is built of chrome and steel, erected for 1958 World Fair as a symbol of a new atomic age. The Atomium includes total nine different 18 meter diameter steel spheres which are inter-linked by the tupes.