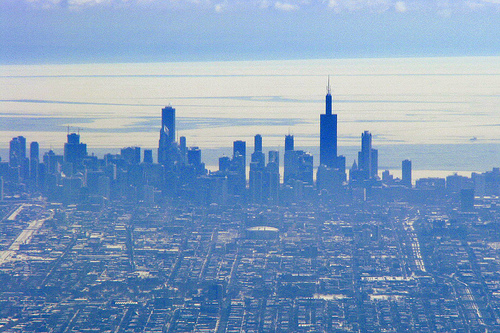 If you're seeking a vacation getaway that features big-city sights and sounds, you'd be hard pressed to beat Chicago. The Windy City is home to two buildings that once stood as the tallest buildings in the world: Willis (formerly Sears) Tower and the John Hancock Center. Although neither holds that distinction any longer, you still can get a breathtaking view of Chi-Town from their observation decks. The arguable favorite is the spectacular view from the glass Skydeck on the 103rd floor of the Willis Tower.
Stay Safe in the Big City

Chicago is a large city (approximately 2.7 million residents as of the 2010 census) and as such, you need to be on your guard during your visit. Identity theft is a real threat in today's urban areas. A shoulder surfer could watch you punch in your PIN at an ATM, for example, or you could fall victim to a pickpocket who could start using your credit cards. According to the Federal Trade Commission, once identity thieves have your personal data, they can empty your bank account, or even obtain medical treatment through your health insurance. If data is stolen, the FTC recommends you contact the three major credit reporting companies, so an alert for fraud can be placed on your credit file. You also should check your financial institution for unusual activity.
Get Ready, Get Set
Now that you're armed with a few ID theft facts, you have to get to the city. Chicago has two major international airports, O'Hare and Midway. For rail, Amtrak and Metra Rail also service the city, in addition to the South Shore Line from South Bend, Ind. Of course, there are plenty of taxis and buses to help you get around town.
There are plenty of world-class hotels in Chicago, including the Waldorf Astoria and Trump International Hotel & Tower. If a bed-and-breakfast is more your thing, the Villa D'Citta and the Gold Coast Guest House have received wonderful reviews on tripadvisor.com.
Go
You won't have any problem filling your days in Chicago. Take a trip to Navy Pier to visit the shops, and maybe take a Ferris wheel ride overlooking Lake Michigan. Just down the way from this attraction is the Adler Planetarium, the Field Museum and the John G. Shedd Aquarium. Be sure to check out the jellies exhibit and the large coral reef.
Lincoln Park Zoo is a well-maintained attraction that features its famous Great Ape House. Amazingly, zoo admission is always free.The list of Chicago attractions continues with the Art Institute of Chicago, the Museum of Science and Industry and, for sporting fans, Wrigley Field (the Chicago Cubs), U.S. Cellular Field (Chicago White Sox) and Solder Field (Chicago Bears).
Shopping's not a problem either, at least not with Michigan Avenue. It's called the "Magnificent Mile" for a reason, with numerous high-end shops. The pinnacle is Water Tower Place, a multilevel mall with the best shopping in the city.
To get a more rustic experience, visit the Montrose Point Bird Sanctuary. Migrating birds take to the sanctuary's low-lying trees and shrubs, giving it the nickname "the Magic Hedge."