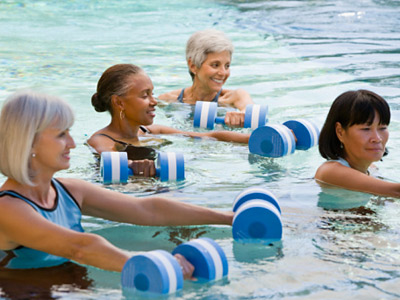 The time is coming near when you will be seeing many people wearing shorts enjoying at beach. Yeah, I am talking about the summer season. In this season, people with beautiful bodies will be enjoying on beaches. Will you be doing the same? Oh! So you want to do the same, but don't have a good body? Don't panic! By getting into good shape you can also enjoy the summer and can attract others by your attractive body. Pool exercises can help you get in shape. Here is the list of 3 best pool exercises to get in shape.
Spider-Man
Don"t get excited, it's not about the movie, but about the exercise. This is gravity defying water exercise which can be done in a pool only. In the exercise, you are required to claw at the side walls of the pool; just what a spider-man does. This exercise is quite easy to do. You should move along the boundaries of the pool and should complete three or 4 laps of it. This can help you reduce extra fat on your body. Remember: Don't try to do this exercise outside the pool. You will end up with having physical damage.
Fly Backs
This exercise is my one of the most favorite pool exercises. It is done for chest muscles. This is the same exercise as you do for chest muscles in the gym. The only difference is that in this exercise, the pool works as gym for you and water pressure works as weight. In this exercise, your one knee should touch the floor of swimming pool, while the other should be bent backward to balance the body. Now, bring your arms in front side and then take them again. This is treated as one set. You should do ten to fifteen such sets. It will put a pressure on chest muscles resulting its growth.
Cardio Core Ball Running
This is one of the best pool exercises. Hold the rubber at waist height. After doing so, start from one end of the pool and reach at the other end of the pool. You may feel it difficult to reach at the other end, but keep your courage up. This exercise can help you in burning extra fat on your body resulting in its perfect shape, and can teach you the basics of balance.
For More Health Benefits: http://healthbuzzer.com/