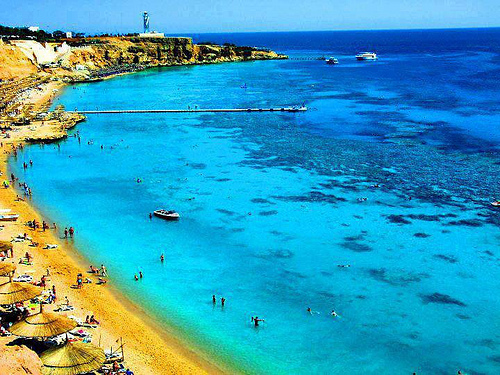 Sharm El Shiekh is one of Egypt's most popular family-oriented destinations. It's also fairly affordable, and it has plenty of activities that families of all ages can enjoy together. In fact, many of the resorts located in Sharm El Shiekh market themselves as family-oriented resorts for a reason; they provide plenty of variety that's suitable for everyone from babies through to adults. When planning a holiday to Sharm El Shiekh, use this list of family-friendly resorts to find accommodations and if you see something you like, why not visit Directline and get a great deal on holidays to Sharm el Shiekh.
Coral Sea Holiday Village
Coral sea holiday village was built with the idea of creating a space for families to come to visit have all of their amenities within the local area. With affordable prices and plenty for children and parents to do, this is an ideal resort for families with children between the ages of five and 18. This beautiful resort is situated on the beach, with several bookable family rooms having the added benefit of also being swim-up rooms. You can quite literally spend the entire day in the water when you stay here. The main restaurant that corals the holiday villages known for its excellent cuisine, and they have a menu with items both for adults and children. Even the pickiest children will find something to enjoy on the menu. Drinks are available for adults with identification.
Park Inn by Radisson Sharm El Sheikh Resort
The Park Inn by Radisson Sharm El Sheikh resort has won many awards. Their most recent award is the 2014 Traveller's Choice Award. This is a five-star resort, with just about every amenity you can possibly imagine available to you. Despite this, the resort is actually quite family-friendly. Staff at this resort go out of their way to help you, and are friendly and magnanimous when interacting with little ones, which is a nice change from some of the other resorts and hotels.  And while souvenir sellers may be pushy, prices for small items are fair and reasonable, and aren't immensely difficult to swallow when kids become enamoured with them. The Park Inn also has an attached water park with plenty of slides and shallow water for children.
Sea Club Aquatic Park
The Sea Club Aquatic Park isn't just a water park; it's a full resort in its own right. If any hotel is perfect for families in Sharm El-Sheikh, it's this one. Surprisingly, although it has a myriad of activities designed to suit all ages, it's also quite affordable. With excellent ratings from several different review sites, the Sea Club Aquatic Park can be trusted. They have an in-house animation team that provides movies for children, both created in-house and popular, and are more than happy to just services if you aren't satisfied. The Sea Club Aquatic Park also runs a number of day excursions; it's possible to go sailing, quad biking, or diving with a guide from the local area. Trips into the desert are also possible from this resort. Of course, a full water park is also provided, complete with water slides, pools, and many other fun activities for time in the sun.