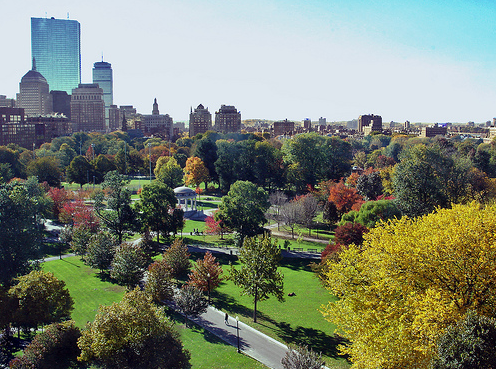 As cultural bastions on the east coast go, Boston is certainly up there with the best of them and if you find yourself visiting the city on your own then there are plenty of reasons to be cheerful as this is a great place to embrace the spirit of independence.
History and politics aside, Boston is blessed with a great range of bars, cafés and parks to help you while away a few hours with a good book and if you feel the need for a bit more cultural insight then there are plenty of excellent galleries to assist in your quest for solitary satisfaction.
Below presents just a glimpse of great things to do in Boston on your own and if you can't bear the weight of the past any longer then there's always the Freedom Trail to help you fill in the blanks on America's very own soul searching mission.
Café Culture
Boston has a wide range of great coffee houses to help you sit back and relax with a good book as the rest of the world busily passes by. Trident Café on Newbury Street manages to combine both pastimes as it's primarily a book shop and well-worth a visit on both counts. Other great caffeine-infused pit-stops include: PS Gourmet on Dorchester St, Voltage Art & Coffee on Kendall Sq and Ula Café on Amory St all of which promise an authentic chance to soak up the local lifestyle.
Bar Time (not Cheers!)
If you prefer to read or meet new friends in less salubrious settings then you'll be pleased to know that Boston's bar scene is thriving and anyone looking for a good night out in town should certainly consider the Eastern Standard although it can get slightly rammed when the Red Sox are playing at home. Stoddard's on Temple Place, Trina's on Beacon St and Brendan Behan's on Centre St are all well-worth a look in and if you're feeling confident and don't mind sharing then you'll find a great venue to enjoy your independence.
Park Life
With more than 2000 acres of park to choose from, Boston is definitely a great place to stretch your legs on a blue sky day and since the smoking ban came into play you'll find nothing but good, clean, fresh air. As it takes around an hour and a half to walk the 7 miles between Boston Common and Franklin Park you'll definitely find plenty to keep your mind and body occupied and with the likes of the River way, Jamaica Pond and Back Bay Fens in between, there's plenty of opportunities to rest and relax outdoors as you explore alone.
Art Aplenty
Of course, the last thing you'll probably need on a rainy day on the east coast is a park and thankfully the perfect antidote is always on hand to provide protection from the elements. Art galleries and Boston go together like sourdough and clam chowder which is all good as you'll find a whole host to choose from, including: the Isabella Stewart Gardner Contemporary Art Museum, the Museum of Fine Arts and the Harvard collection of art houses, all readily enticing when the heavens start to open.
Shopping Potential
If you're on your own and hankering to spend some cash or just indulge in a little window shopping then Boston offers all manner of retail outlet to satisfy your every need. Newbury St, Copley Place and the Back Bay are best for boutiques whilst Faneuil Hall in the downtown district has over 100 shops and over 10 restaurants all of which are housed in classic Bostonian buildings and often have live street art spilling over onto the exterior cobbles.
Heritage Museums
Of course, no self-respecting single traveller is going to come to Boston and not soak up a few essential facts and figures relating to the past and thanks to the city's excellent array of history museums you'll be fully versed on American independence in no time at all. The USS Constitution, the Concord and the Salem Witch museum all hold some fascinating exhibits and if the weather's right then no trip to Boston is complete without visiting the historic harbour and the home of the infamous 'tea party'.
If you have plans to visit Boston on your own or travel USA along the east coast then retaining an independent spirit is essential for keeping happy and enjoying the sites as you wish. There's nothing better than a good book, steaming mug of coffee and a jam-packed itinerary to help you while away your time and, who knows, you may just bump into a like minded local along the way.