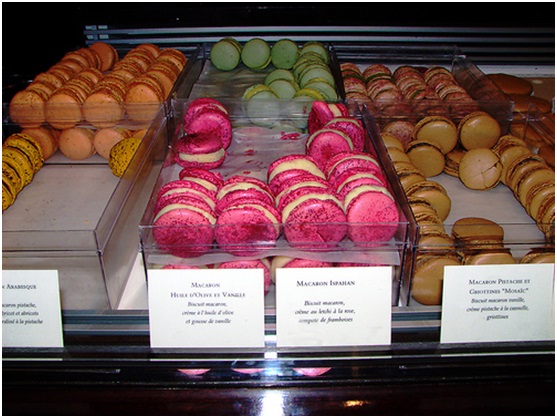 From its elaborate starters to its scrumptious desserts, cuisine in France is a neverending box of surprises. And of course, there is no better place than the country's capital when it comes to sampling all the delectable treats that French gastronomy has to offer. While in the city (and whether you have a sweet tooth or not), a visit to one (or more) of Paris' top patisseries is in order. Here is a selection of the top ten best Parisian establishments that are well worth a visit.
La Patisserie des Reves
As its name suggests, this patisserie serves the stuff that dreams are made of. Upon walking into this shop, you may get the impression that you are in a museum, and staff add to this initial impression with their detailed knowledge of every single sweet treat on offer. If you travel with kids, they will love the children's tea room at La Patisserie.
Ladurée
Located in the magnificent Champs Elysées, Ladurée's original branch has been delighting locals and visitors for over 100 years. True to the patisserie concept, Ladurée is more than somewhere you can get your favourite sweet treat, as there is also an elegant bar and a salon de thé in its premises.
Pain de Sucre (Sugarloaf)
A visit to Pain de Sucre is compulsory for anyone who is into pastries. The motto of this establishment is "tradition revisited", and when this is applied to classic desserts like éclairs, macaroons, or mille feuilles, the results are nothing but impressive. The combination of colours, textures, and flavours is simply superb here.
Sadaharu Aoki
If you wish to combine oriental luxuriousness with delectable French cuisine, stop by Sadaharu Aoki's establishment, which serves French classic desserts with a Japanese twist (think bamboo macaroons or black sesame and green tea éclairs). And to complete your experience, book a Japanese massage session at the Hyatt Regency Paris-CDG spa.
Jean-Paul Hévin
Chocaholics cannot leave the city without stopping by Jean-Paul Hévin's patisserie on Rue St Honoré. Mr Hévin is a recognised artisan who applies its expertise and craftmanship to desserts, creating authentic works of art in the process. The truffles, fruit mendiants, and chocolate fondues come highly recommended.
Pierre Hermé
Pierre Hermé is considered one of the pioneers of the new French patisserie concept. His shops are among the most exclusive in the French capital, and Hermé's creations are priced accordingly. Some must-try suggestions include the assorted nougat boxes, the chocolate, rose, and raspberry Ispahan cake, and the vanilla and rum cannelé.
Jacques Genin
Located in a charming loft with lovely views over the city's third arrondisement, this patisserie and salon de thé is the perfect venue for an afternoon treat after a day of sightseeing. If choice is a problem (and it most likely will be), try the mango and passionfruit cream caramel or the éclair au chocolat.
Un Dimanche a Paris
There is no better way of spending a Sunday in Paris than visiting this aptly-named patisserie. And if you ever want to learn the process involved in creating things like the sublime foie gras au chocolat or the raspberry,