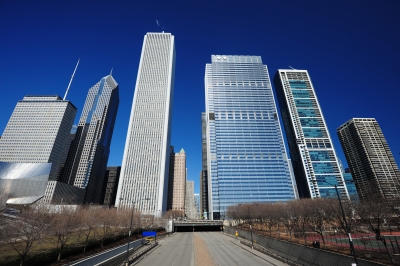 A trip to Chicago is a great way to experience the excitement of a big city. There's entertainment of all sorts, restaurants ranging from burger joints to 5-star establishments, plenty of sports events and shops of an unimaginable variety. Despite all of this, the first choice to make seems much more mundane: deciding on where to stay. Here are a few suggestions for Chicago hotels that vary depending on style, budget and location.
A downtown hotel is great for those who intend to spend their trip walking around the city and enjoying what its busiest area has to offer. Here are some suggestions for a downtown location:
The MileNorth Hotel is right in the heart of the city, and it puts guests within walking distance of the Magnificent Mile, Navy Pier and other excellent attractions. Inside the rooms, a 32-inch flat screen TV with cable, a CD stereo clock radio and more provide entertainment when guests aren't out on the town. One caveat: The valet parking costs $52 per 24 hours, so visitors may want to park their own vehicles.
The Fairmont Hotel is on the Chicago Loop and offers easy access to all downtown locations. A 12 p.m. checkout gives plenty of time for sleeping after revelry the night before. It has a minimalistic but classy style that is sure to please those seeking a modern experience. Like the MileNorth, its rooms feature big-screen TVs, optional high-speed Internet service and plenty of other amenities.
Sometimes, a city's history is a high point of a vacation. Those seeking to immerse themselves in Chicago's past will enjoy staying in a historic hotel. Here are some of those chose by Forbes Magazine as the most historic the city has to offer.
The Renaissance Blackstone has been in operation since 1910 and has been host to presidents, movie stars and other notables in its many years of operation. The image of the smoke-filled rooms in which political and business deals were made, was entirely accurate one for this hotel not too long ago. Now, it offers fully modern amenities and a high-class experience.
The Drake Hotel, opened in 1920, continues to offer a true speakeasy experience. Its bar, Coq d'Or, has been open nightly since Prohibition's repeal. It also offers an elegant experience in its Palm Court tearoom. Outside, guests will find the Magnificent Mile waiting with all of its shopping and entertainment opportunities.
For those on a budget, there are surprising deals right downtown. A night at the Embassy Suites starts at $89, and the Inn of Chicago and Ascend Collection offers rooms starting at $75. These are great prices for a room on or near the Magnificent Mile, but for those truly on a budget, such rates may still elicit some laughter when combined with the word "affordable."
Visitors seeking a truly budget hotel should consider staying outside of the city. The Chicago area's extensive public transportation make nearby suburbs like Skokie easily accessible by bus or train. National chain hotels like the Super 8 have rooms there starting at $45 a night. Knights Inn, Holiday Inn, Motel 6 and other such budget chains are also available in abundance in the suburbs. These hotels aren't fancy, and the cheapest are likely to be outright downscale, but they're great for people who will be out of their rooms and enjoying the city whenever they're not sleeping.