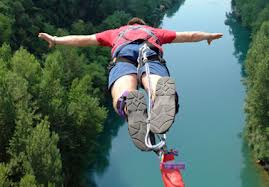 For adrenaline junkies who love the thrill of free-falling through the air to snap back up before crashing to the ground, finding the perfect place to bungee jump is about more than just height. A beautiful setting adds richness and vibrancy to the experience of jump, and can truly transform the experience. When planning your next jumping trip, consider adding these top locations to your bucket list.
"007 Goldeneye" Bungee Jump, Ticino, Switzerland – A contender for the highest bungee jump in the world, the Verzasca Dam in Ticino Valley, Switzerland combines Alps beauty and Hollywood glamour. In "Goldeneye," James Bond performed a bungee jump from this very location. As you freefall, you'll enjoy the view of mountains, lakes and clear blue rivers.
Victoria Falls Bridge, Zimbabwe – Located between Zambia and Zimbabwe, the Victoria Falls Bridge offers the chance to bungee jump from the largest waterfall in the world. Have your 111-meter plummet toward the water recorded on video by the outfit that runs the jump, then purchase it for bragging rights back home. One note here: If you're hoping to knock this off your bucket list, don't forget your passport. You'll need it to obtain a gate pass for the bridge.
Royal Gorge Suspension Bridge, Colorado – Height junkies will need to try this 321-meter jump. Jump alone or with two other friends, and achieve speeds of up to 50 miles per hour. The Royal Gorge Suspension Bridge does have a limited season for bungee jumping of May through October, so be sure to plan ahead. While you're up there, take the wooden plank walkway across the bridge for breathtaking views of Colorado canyons.
Macau Tower, China – Jump from the 338-meter Macau Tower and feel like you're falling through the sky. The tower hosts an observation deck and bungee jump platform where you can look out across the Pearl River Delta. Experience a few rebounds before safely landing on a giant airbag.
Image credit: http://www.prlog.org/10499254-first-bungee-jump-platform-of-uk-approved.html