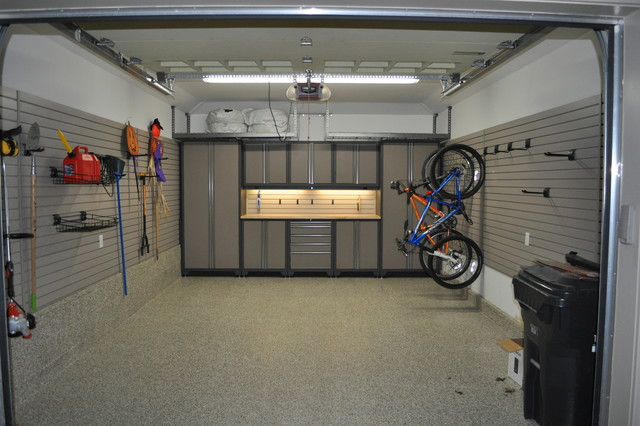 If your garage is the just domain of your car, a few bikes and excess items from your home, then you're not getting maximum value from all that space! With creativity and a budget, you can turn the garage into something special, whether or not it continues to share space with the car.
This guide to garage design is equal parts information and inspiration, and when you combine them with your goals, you'll be amazed at what the space can be!
Garage Transformation Budget and What It Will Get You
Let's begin with the money side of things. It will help you plan the scope of your garage transformation plans whether good, better or best.
Good: Even if your budget is a bit tight, these garage upgrades will free up floor space, reduce the clutter and add utility.
Plywood on rafters to create overhead storage

Hooks and shelving to get tools and bikes off the ground

Floor cleaner and paint to get rid of stains

A commercial fan for cooling and ventilation

Basic light fixtures replacing bare bulbs

A small refrigerator

A few pieces of decor for the walls to suit your personal sense of style

A handful of comfortable folding chairs and a table for lounging, playing games or poker and relaxing with friends
Better: If there's more room in the budget, upgrade the fridge, lighting, decor, table and chairs and add these elements:
Primed and painted wallboard over the studs

Cabinets for hiding clutter

A workbench for hobbies

Garage flooring tiles and mats you can use to create a comfortable and customised design or moderately priced indoor flooring such as vinyl or laminate if you intend the garage for living space.

A through-the-wall air conditioner for climate control.

External storage like

a Backyard Buddy

that provides more space in the garage and a secure, weatherproof location outside the garage for valuable tools and equipment.
Best: With a large garage design budget, you can add comfort and luxury to everything above plus:
Plumbing and fixtures for a wet bar, bathroom, jetted tub or a private master suite.

A ductless heat pump for optimal air conditioning – and heating when needed.

Larger windows.

An attractive, highly functional garage door with windows to allow natural light.

Timber or tile flooring

Wall paneling

Specialty equipment such as a billiard table or woodworking machinery for your hobbies.

A wall-mounted vacuum for cleaning up your workbench and the car floors.

A

custom carport

to keep your car out of the garage but protected from the elements.
From Raw Materials to Reality
These are the raw materials for a garage design you'll really love. The finished product should be shaped by the purpose you have for your garage. Popular garage design plans include:
Living room/family room:

Large families and people that love to entertain appreciate a room dedicated to relaxing together in comfort, talking, playing games, listening to music or watching a movie.

Master suite:

Couples enjoy the privacy and pleasure of a luxurious bedroom and nicely furnished bath to call their own whilst the kids take over the existing bedrooms and bath.

Space for him:

Call it gentlemen's quarters or a mancave, and outfit it to his hobbies and style.

Space for her:

We're all for equality of the sexes, so give her room to enjoy her hobbies too.

Home office:

For those who work part-time or full-time at home, having dedicated space with its own entrance truly allows them to keep work and home life separate. Use the garage conversion for a traditional office to meet clients and get work done, a studio for teaching music or giving massage, a hub and warehouse for a growing online retail endeavor…if you can conceive it, the garage can be the place where it comes to life!

Apartment:

Who couldn't use an apartment complete with bath and kitchenette for guests, elderly parents or the adult child that returns home to save money?
Budget, Plan it, Build it
That's the three-step process to take your garage from mundane to marvelous. Decide what you can spend on the project now and in phases going forward, choose the outcome you want in terms of purpose and style, and start bringing it to fruition one step at a time.