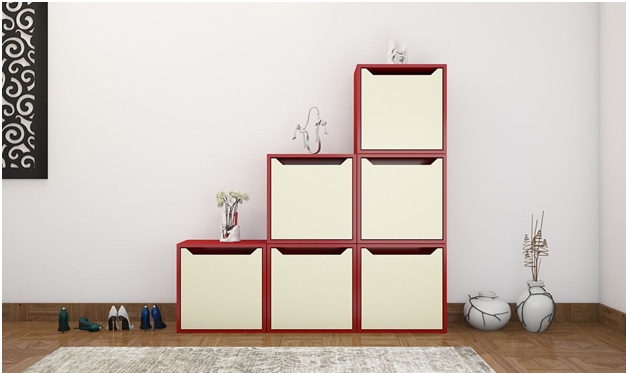 Homeless shoes make way for horrid smell. They also induce untidiness and unpleasant vicinity around your home. The best way to organize them rather than have them lying outside to burst out nostrils of the passerby is to stack them in a shoe rack. Shoe rack offers proper organization of your shoes and improves the look and feel of the atmosphere around.
Shoe racks are the best piece of furniture to house your shoes neatly and in a particular manner. They display class and elegance of a person polishing his character and chivalry. Various shoe rack designs are available online and in stores. However some popular and classy pieces of wood are listed below:
DOOR BASED SHOE CABINET: Simplest amongst the rest they are cabinets of ornately carved wood shelves and doors. Depending upon the use of the buyer the number of doors varies from one to four. Elegant in look and their vital aspect is the color and type of wood used. Generally preferred colors are maple, wood brown, red wine, classy white and tempest blue.
COLLAPSEABLE SHOE STAND: This is a shoe rack stand which can be set up and carried anywhere. Open and it turns into a shoe stand close and collapse it turns in to a shoe bag which you take wherever you go. They aren't made of wood but of fabric or nylon standee. They have foldable rods embedded inside which support the stand while open. They cannot be deemed as classy but are efficient utility wise.
POCKET SHOE HANGER: When a concept of hanger is applied to a shoe rack this design can be achieved. A perfect blend of pocket hangers and shoe rack they are innovative and unique. Unlike shoe stands or shoe racks they tend to have pockets to hold a pair of shoe. They too aren't made with wood or any firm substance. Use of pockets over shelves permits larger storage but they are more susceptible to damage.
SEAT BASED OPEN SHOE RACK: When comfort and design are implemented together the result is an entrancing marvel for sight and use. These types of shoe racks have open selves to accommodate shoes and the top is encased with a seating which can be used while wearing or removing shoes. The seat is normally furnished from cotton or sponge. Comfortable and useful they are the best shoe rack designs.
SHOE PULLOUT CABINET: Cabinets installed with trolleys and handle are the general category for this shoe rack design. However, aluminum built shoe stand that consists of lockers are in a popular demand these days. They are easy to handle with less maintenance and effort. But the storage provided is not as much as it is expected.
Shoe rack designs have seen a rise in demand with the increase in standard of living of people. Use and fashion both are the important factors a shoe rack design must provide. Deemed often as shoe houses shoe racks are being considered by many people these days.