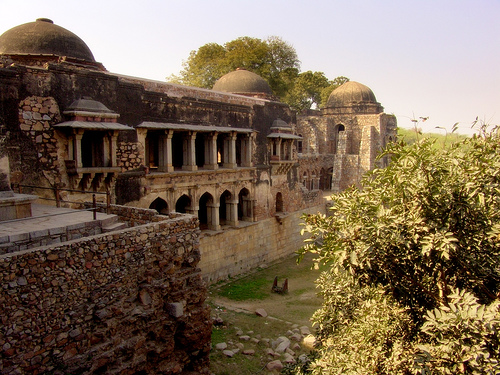 For a foodie, Delhi is a haven of distinct flavours and aromas. There are several prestigious restaurants which have been running since centuries with the secret to their dishes lying within the family itself or buried deep into the hearts of the masterchefs. If you're in Delhi, these tempting tastes are quite hard to resist. Several tourists from various countries and neighbouring cities visit Delhi to enjoy its culinary delights. If you're in for the same, there are some really affordable 5 star and 3 star hotels in Delhi, along with budgeted options. So, let's have a look at the five best restaurants in the historical city, which will swirl around your taste buds.
Dum Pukht – The 'dum' method of cooking originated in the Awadh region (now Lucknow) and dum pukht is the most historical dish wherein, meats, spices and herbs are kept in a pot and sealed with dough and kept on slow flame, so that juices and spices takes it time to churn out the best taste. The seasoning passes through yielding best results and there! You have, perhaps, the finest specimen of North Indian cuisine. The restaurant took this valuable name to churn out the most delectable dishes for its customers. Located in ITC Maurya, Dum Pukht stands in the list of Asia's fifty best restaurants. A must visit.
Karim's – The extensive menu coming out from this, old multi roomed restaurant, seems like straight from the imperial kitchens of the Mughals. With huge utensils, whizzing some fantastic aroma and flavours, Karim's is a fan favourite in Delhi. People of all ages and nationality visit this place known for its centuries old wonders like mutton korma, sheermal, butter chicken and varies kebabs. Located in the original market premises outside the Jama Masjid, this age old restaurant is a clear symbol of perseverance of culture. If you're in for no-frills, authentic dining experience, look nowhere and head straight to Karim's.
Indian Accent – Indian Accent is perhaps the most creatively made and different restaurants in the capital. Located in a small boutique hotel, the kitchen is run by renowned chef Manish Mehrotra, who's known for presenting a delighting mix of local foods with international cuisines. If you're up for something new and exciting, this where you need to be. Some of the enigmatic food fusions that you can see is a lamb kebab with foie gras or crab with coconut chutney.
Moti Mahal – One of Delhi's oldest restaurants, Moti Mahal has several accolades to its label. This prestigious restaurant is credited with the creation of the mouth watering butter chicken and dal makhni. Established after the partition, as a food joints for the refugees, Moti Mahal serves some really amazing array of non-vegetarian dishes. Though, taken the franchise route, each of its branch still churns out the same taste. Something really interesting.
Bukhara – Another gemstone in the list of Asia's best fifty, is the legendary Bukhara. Unlike, Dum Pukht, Bukhara is known for its lip-smacking varieties of kebabs. Opened in 1977, its menu hasn't changed much and even if you want to go for a simple platter of dal roti, you'll find it as heavenly as it could ever be.
Delhi's food attracts visitors from all over the world, so if you're planning to go on for a culinary ride, make the right travel arrangements. There are several carriers coming straight to the city like Delhi to Mumbai, Delhi to Kolkata, Delhi to Chennai and Delhi to Hyderabad flights etc.