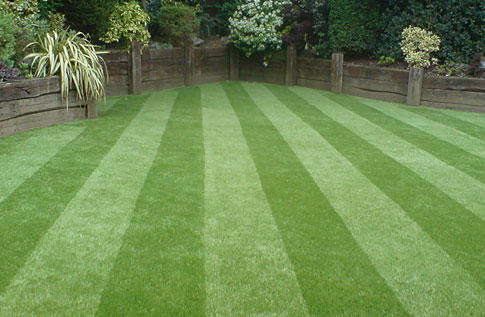 Artificial grass is the best option for elderly, who cannot maintain lawn, holiday homeowners, and organizations. It is also ideal for areas with water scarcity and heavy usage. Lush lawns are aesthetically pleasing, every time of the year. There is no concern about weeds and yellow patches.
Unlike real turf, artificial lawn maintains its vibrant color all through wet and long hot or dry spells. No weeding, fertilizing or watering is necessary, so it is kind to the environment. Still in doubts about installing artificial lawn, then read below to eliminate those uncertainties.
What kind of surface is needed to install artificial grass?
Fake grasses are versatile and can be installed on any kind of surface including soil, paving, concrete, turf, and tarmac. They are commonly used on sports playing surfaces, swimming pool surrounds, patios, roof gardens, kids play areas, garages, conservatories, show rooms, exhibitions and shopping centers.
Can artificial grass be installed on a slope?
In general, the artificial grass slopes must not be more than 15%, if you wish to walk on it. It is wise to select a grass, which does not need sand fill because sand moves down the slope. Pins are used to secure artificial grass down.
What do you feel, when you walk on fake grass?
It is soft and springy. The infill provides more bounce in comparison.
Why use sand infill?
To hold the grass and provide shock absorption infill has to be used. Sand is cheap alternative and is fire resistant and chemically inert.
How to cope with garden portion that remains wet always?
You will need more sand or hardcore to build the surface.
How will the fake lawn handle flooding?
The product is permeable, so rain water drains away. However, fitting a drainage base below leveling layer is a good idea.
Is synthetic lawn safe for kids and pets?
Yes. You can buy the best quality artificial grass in Miami, which are designed with safety in mind. They comply with stringent safety standards. Young skin does not get grazed and premium grass includes extra dense layer and thatched structure for better soft landings.
What is the maintenance required?
A little maintenance is needed. You have to clean the debris falling on the grass with garden broom and it even helps to smooth infill or realign the fibers. Hose it with water to keep it hygienic. Use mild detergent, and disinfectant to clean the grass surface, especially if you have a pet moving and playing around.
Can barbecue be used on artificial turf?
Sand infill artificial grass reduce fire risk but it is recommended to place the BBQ on slabs.
With more usage will the grass flatten?
The right kind of grass will not flatten. A curled or textured yarn prevents the artificial grass from matting.
Is artificial lawn eco-friendly?
Obviously, you don't need to water it like real grass. In hot climate, it says lush green without water. There is no mowing needed therefore no fuel or electricity is used. There is no need to use severe pesticides, herbicides, or fertilizers. Thus, it helps to save and preserve natural resources.