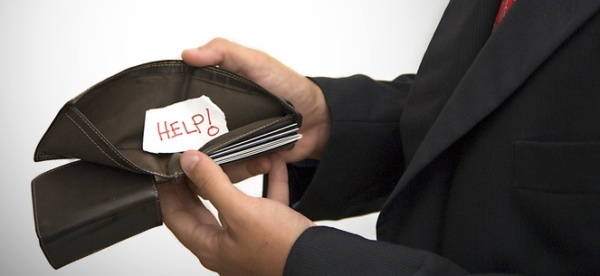 If you are currently dealing with debt, you don't anyone else to tell you how much of a problem it is. Financial issues and concerns can cause a lot of problems for people. This is a major factor in stress and having debt and no money isn't just a financial problem, it very quickly bleeds into health issues and relationship concerns. Money is an integral part of life and if you don't have it or you are struggling with your finances, life can be difficult. However, you can break free from debt, so take the time to think about how you can improve your life.
One of the most important factors in life is not panic. This may sound like simple and easy advice from someone who doesn't have financial issues at the moment but if you panic, you run the risk of making your problems even bigger. When you are under pressure or you feel stressed, you may feel as though you have to make a decision quickly, but you should never act until you have a lot more information. Even if you feel as though waiting a day or two will cause issues, it may prevent you from making a terrible mistake in the short term.
Don't rush into the first solution you see
It is important to know that you shouldn't rush into finding a solution when dealing with debt. This is because some of the immediate solutions on offer for people in debt are not always the best, or even suitable for everyone. You need to make sure that you find a financial solution that is right for your needs, circumstances and situation. It is better to take the loan solution that best fits your needs than the one that is immediately available, because you will obtain more benefit in the long term.
One of the first things you must do when it comes to finances is create a budget. This can be painful for a number of reasons. Not everyone wants to look at their finances and there is also the fact that some people don't like working with numbers. If you want to ask a friend to help you out or you feel that you must call on the support of a professional, do so. Creating a budget is a hugely important step and once you work out what your financial situation is and how much money you actually owe, life will start to become easier.
In addition to knowing what your budget is and what your debt level is, you should ask yourself a couple of questions. Primarily, you want to work out if you can earn more income and spend less money. You should ask yourself:
Is it possible to obtain overtime at work to bring in more money?
Can I work an extra job to bring in more cash?
It is possible to sell items and earn cash that way?
Can I cut back on my daily expenditure?
Do I know every transaction coming out of my account?
These are all ways that you can improve your finances so you really need to make sure that you consider everything that can make your life better.
Are there loans you need to pay first?
When it comes to dealing with debt and finances, are there things that you need to take care of right away? If you have pressing debts and they need to be paid off, you may not have much leeway when it comes to your finances. The nature of the debt, as well as the scale of the debt, may require you to pay the debt off at a faster rate, and this can impact on what you do to improve your finances.
It may be that a guarantor loan is the best option for your needs. If you have someone who is willing to act as a guarantor for you, the lending company is more likely to provide you with an attractive rate of APR. This is something that will make a big difference because it means you pay money in paying the loan off.
There is also the fact that the length of time you have to repay a guarantor loan is more attractive than many other options. This is definitely a loan option to consider if you are dealing with debt.
Andrew Reilly is a freelance writer with a focus on news stories and consumer interest articles. He has been writing professionally for 9 years but has been writing for as long as he can care to remember. When Andrew isn't sat behind a laptop or researching a story, he will be found watching a gig or a game of football.