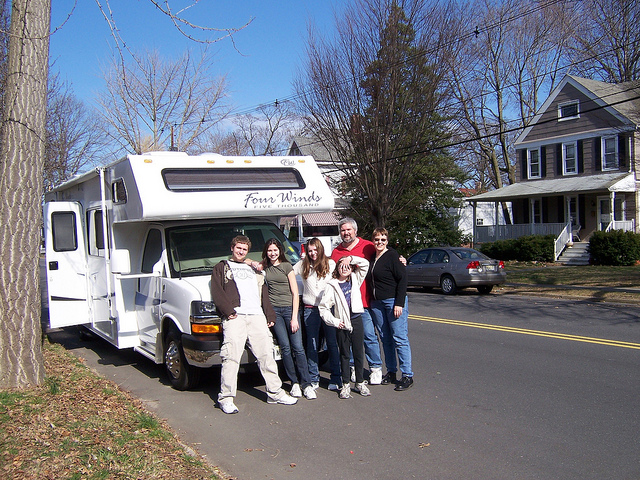 A lot of RV travel advisers focus on couples' retreats when they're offering vacation suggestions. However, RVs are not just for retired men and women who like to go south for the winter — they're also great for taking the whole family on vacations throughout the year without breaking the bank. Before you pack your family in though, it's important to make sure you're prepared for the trip, with fun activities on hand for both children and adults. Here are a few tips from seasoned, experienced RV families on how to make your family RV vacation a great one.
Children
            Parents are sometimes skeptical about taking their kids on an RV vacation. They think their kids might get bored quickly, resulting in whines, and ruining their relaxation. However (in most cases), this is far from the truth. As you travel from place to place, try to keep the children engaged by playing road games — this will keep them from whining and asking the dreaded, "Are we there yet?" Also, once you arrive at your campsite, try to include them in the setup — this will make them feel more important and will also result in the work getting done faster. Once you are all finished setting up, check out the available activities — campsites often have loads of things to do, ranging from playgrounds, to fishing, or just gathering wood for the campfire.
Parents
            Although they of course want to keep their kids happy, nothing is more important to parents than enjoying their hard-earned vacation time. Depending on your interests, there are a plethora of things to keep parents busy. If you enjoy music, for example, bring along a radio or music player that you can listen to while lounging around the campfire. If you are more into activities, bring games ranging from board games to outdoor games. Even the chef of the family can enjoy the vacation by trying their hand at fire pit cooking.
All Together Now
            Not all activities are going to be different for parents and children. There are many things to do while camping that the whole family can enjoy together. For instance, everyone enjoys preparing and eating dinner together while seated around the fire. Also, there are a multitude of timeless games that people of all ages can enjoy, ranging from washers to badminton to horseshoes. If you are near a lake or ocean, or if your campsite contains a swimming pool, taking a dip is almost always enjoyable for both parents and children alike. Most family members can also agree that lying out and relaxing under the stars is the perfect way to end any night while camping. (Just make sure you packed your bug spray!)
            No matter what ages you and your children are, camping has the potential to be fun for everyone. As long as you plan ahead, there are often activities and adventures that appeal to all ages. We encourage you to look into an RV vacation for your next family trip — you won't regret it!
Written by the staff at Quality RV, one of Missouri's premium RV dealers. Quality RV is located in Linn Creek, MO at the Lake of the Ozarks.