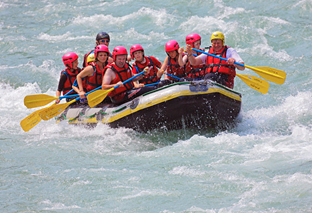 There are many different reasons people become rafting guides.  It is a very rewarding and exciting career opportunity, whether you are looking for adventure, enjoy life in the outdoors, want to keep the rivers safe, or educate the public about river and water resources.  There are a number of schools and organizations that provide training and certification; however, there are a few prerequisites before you can start your training.
Physical Requirements
All guides must be at least 18 years old and be in good physical condition.  Training is designed to thin the heard, so if you want to improve your chances of success, it is a good idea to begin physical conditioning before the actual river training begins.  Whitewater rafting can be extremely strenuous depending on the river conditions, so it is best to be prepared for the most extreme circumstances.  It is a sport that requires a great deal of strength, balance, flexibility, and endurance.
Aerobic activity and stretching will improve endurance and flexibility, but you will need to incorporate weight and strength training to reach your peak physical condition.  You should focus on upper body strength to withstand the repetitive motions of rafting to prevent potential injuries that are common in seasoned rafters.  You should focus on exercises that strengthen your shoulders, chest, and back so that you are prepared to raft against strong currents.  A strong core is also extremely beneficial for both strength and balance.  Rafting relies heavily on the use of your abdominal muscles and can prevent unnecessary strain and injury of your back muscles.
Medical Certifications
Each rafting company offers a wide variety of single day and overnight trips; as a guide, you will be responsible for the safety of everyone in your boat.  Depending on your skill and experience, you could potentially lead trips for several days or even weeks through remote wilderness.  Without close medical facilities or trained medical staff, it is important that you know what to do in case of an emergency and how to treat minor injuries.
Basic first aid training will teach you how to properly treat minor injuries and reduce the risk of infection.  The American Red Cross and local hospitals offer classes to ensure that you are prepared and confident to handle emergencies on the river.  They will also teach you what to carry in your first aid kit to treat the most common injuries and conditions that arise.  In addition to basic first aid, most companies also require every guide to be trained in CPR.  Accidents can happen, so it is best to be prepared for anything that could happen while you are on the river.
Professional Rafting Instruction
As mentioned previously, there are a number of schools and companies that offer instruction for river safety and survival skills.  It is best to find a company that trains on the rivers you will be working and running so that you will be familiar with your environment.  They will have professional educators to teach you about everything from how to read the river conditions, safety and rescue, survival skills, and paddling techniques to teamwork, customer service, and meal preparation.  You will work with the best trained and most experienced guides to ensure that you have the knowledge and skill to perform the job.  Once you have completed and passed each course, you will then receive a certificate of completion.  You are now ready to hit the rapids and lead groups on their own adventure.
Written by Michelle Powell. Michelle loves to whitewater raft on her spare time.