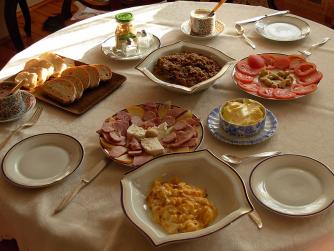 Krakow is fast becoming one of the most popular school trip destinations.After a hard day studying its history and visiting the museums and memorials, what better way to relax than trying some of the local fayre!
Pierogi – Student Bravery Rating – Depends on the Filling! – 2
Pierogi is one of those traditional Polish dishes that was built to help you withstand those real winter chills. These lovely soft dumplings can be stuffed with anything you can imagine, from the more traditional potato and cheese (ruskie) or mushrooms and sauerkraut (z grzybami i kapusta) to sweet pierogi filled with seasonal fruits and topped with sour cream. You can find pierogi all across the city but, for smaller groups, my favourite is U Vincenta, located in the Jewish Quarter.
Hot Chocolate – Student Bravery Rating – 1
Hot chocolate in Poland is a very different thing to chocolate powder dissolved in milk or water. School trips to Krakow are not complete without sampling this really delicious, thick, molten chocolate. Enough to satisfy even the most insatiable chocoholic! For the more adventurous, choose from a variety of flavours to add in, ranging from cherry to chilli…
Barscz served with a boiled egg – Student Bravery Rating – 3
This traditional beetroot soup is popular all across Eastern Europe. The Polish version is likely to be a thin, deep purple soup served with a boiled egg floating in there or little ear dumplings (uszkami) – don't worry, they are not really ears…
Zapiekanka – Student Bravery Rating – 1
Zapiekanka comes in many guises and actually means anything baked in the oven. In Krakow though, it can only really mean one thing – a long piece of bread, cut in half and topped with a tomato sauce, cheese and some herbs, a lot like a Krakowian pizza. You can add all manner of toppings if you would like. The best ones are to be found from the barbican on PlacNowy.
Oscypek – Student Bravery Rating – 2
Thischeese in its most traditional form is a smoked sheep's milk cheese from the mountains. If you venture out of the city on a day trip to Zakopane it is a must try. You will see lots of little old ladies selling their own versions from their little stands on the street.  There are lots of great examples to be found in Krakow itself though if you are staying in more central. The cheese is served hot from the grill with a little cranberry sauce. If you are on the go, you can pick some up from the Grill naKazimierz on PlacNowy, or if you fancy giving your feet a break, lots of restaurants serve it too.
Bigos – Student Bravery Rating – 3
Bigos is a sort of hunters' stew packed full of sauerkraut, sausages, meats, herbs and spices. It is a real winter warmer and can sometimes be found served in a big hollowed out bread roll for extra drama! For a really Polish experience, try the Bigos at U MalinaBabci's in the old town or for extra bravery points you could venture into one of the Mleczny Bars and have your Bigos with a home-made fruit compote drink.
Ice-cream – Student Bravery Rating – Even for the most Feeble Hearted – 1

Ice-cream in Krakow is a real treat. In the summer time you can sit outside one of the café's or restaurants on the Main Market Square (RynekGlowny) enjoying a big sundae and taking in the Cloth Hall, beautiful churches and the bugler who plays on the hour from the top of St Mary's Basilica. For the truly local experience though, head down Starawislna to the little family run ice-cream parlour, serving delicious homemade ice-creams. The flavours depend on what they have and what is in season, if you are lucky they will have the wild strawberry (poziomkowy). Go with plenty of time though as the queue sometimes makes its way all the way down the street.
Tim Jenkins writes for Travelbound, who offer a range of school trips to Krakow. Check out: http://www.travelbound.co.uk/school-trips/poland