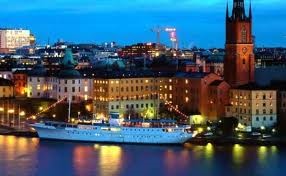 If there is any city in the world which a treat to visit it is Stockholm. Here are some things you could do while you are there:
Drink some Coffee
Sweden has a rich history when it comes to coffee. The Stockholm natives here consume almost 5 cups a day. Try enjoying fika, a sweet coffee fix which is a lovely treat for anyone with a sweet tooth. One should try Grillska Husets Konditori for a lovely drink. For coffee lovers, this place is like heaven. This Swedish pastime is now established on the firm side. Enjoy a cup as you relax while you relish the chill.
Have a Drink on a Boat
Many people choose to enjoy a fine drink aboard a boat with a bar or a pontoon.  The Flyt is another popular ship to see. The old steamboat is a feast to the eyes. The English Channel's lightship, Patricia serves as a popular gay night bar on Sundays. The parties here are wild even in winters as they are in summers.
Enjoy some Live Music
Stockholm has a big music scene. There are gigs every now and then. Rocks bands and pop legends have performed at many famous places in the city. Those who enjoy experimental music should check out Fylkingen. Mosebacke Establissement hosts reggae, rock and pop gigs. Both places are famous for live DJ action too but that is exclusive to club nights.Stockholm has an exquisite party scene and the crowd is usually good.
Stand on Board the Vasa
Stockholm's most valued heirloom is an almost 400 year old warship which was recovered from the deep seas in the year 1961 The Vasa is very popular with the locals and is stunning to say the least. The ship is a good 69m in length and has many myths and many rumours doing the rounds about its past and doomed fate.
Relish the Pontus Experience
Take some time out and go to the Pontus! If there is anything in Stockholm  that screams impressive when you reach there it is this place. This venue is a big 3 floor restaurant which combines 3 unique concepts at a single place. The bar serves some delicious oysters which are a must have. The sushi and dim sum are other must eats here. The food that you will have here is to die for.
Go for a Picnic
Head out to the lush green oasis in Djurgården. This island is not far off from the main town and has some exotic picnic spots. One can cycle, walk and enjoy the city view form there. The monarchs of Sweden owned this island since way back in 1452. Till date it is managed and preserved by the royal courts. Stockholm is a lovely place for a nice picnic.
For those who Love to Dance
Those who love to shake a leg, can take a look at the Spy Bar. All you have to do is show to the bouncers that you are the right person to enter and enjoy the night dancing away.
Enjoy a Tour of the Medieval Parts of Stockholm
The Gamla Stan is a lovely place to visit right in the heart of Stockholm. The area has many fishing boats in and around. The medieval alleys and churches are beautiful and speak volumes of the way the Royal Palace preserved the city. The place is usually crowded so go out during the week.
The city of Stockholmis a wonderful place to visit. For a tourist there are endless places to see and visit. With even a small amount of money, one can enjoy the city with ease. The place isn't so expensive but if you are venturing out to go clubbing or fine dining then make sure you have enough money on you so that you can have a gala time. The people of the city are warm and very helpful. You won't find anyone who will speak rudely to you. Stockholm is known for having friendly faces so one need not worry. Public transports plies on the roads. Take the bus or hire a cab to your destination for a modest fee and all this while enjoy the beauty of the city.The place is beautiful and once you leave Stockholm, you will be begging to go back. The city will rub off on you like a charm. Rest assured you will have a great time. Stockholm is a great place to be.