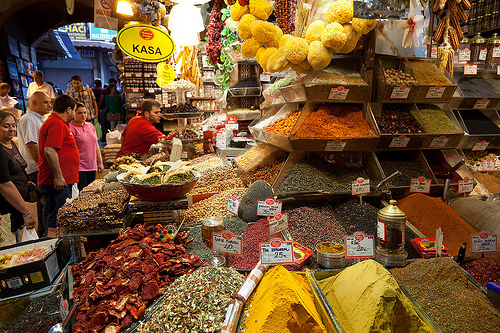 After spending so much money to take a flight to Egypt, you may find yourself a bit strapped for cash. Don't freak out! Here are a few suggestions at ways to save money while traveling in Egypt.
Eat Locally

Image via Flickr by Batistini Gaston
Eating a healthy meal in Egypt for under $1 isn't a dream, it's a reality. Look for Kosheri restaurants. Kosheri is a mixture of pastas, lentils, chickpeas, noodles, tomatoes, and chili. They have three items on the menu – large, medium, and small – and all three go for under a dollar. This is going to be your cheapest bet not only for eating cheap, but also eating healthy.
All of the Prices are Negotiable
When you're shopping in Egypt, unlike the United States, you're able to haggle many of the prices. You should start low and let the shop keeper offer the first price. Alternate revised prices, and always keep a smile on your face. When you walk away, it's possible that the shop keeper will drop their price even lower. Don't be afraid to say no and come back later.
Use Egyptian Pounds to Save Money

Image via Flickr by coyotetrips
Recently, Egyptian traders have started using dollars and Euros when mentioning the price. There are several reasons for this. One, it sounds much better to say an item is ten Euros versus saying it's one hundred Egyptian pounds. Two, they can round the price up. If you use Egyptian pounds, you'll save money while shopping. Use a currency conversion app to see the current exchange rates.
Avoid People Hawking Items and Services
These people are everywhere. They'll sell postcards, trinkets, and even camel rides around the pyramids. Sure, it may cost you ten Egyptian pounds to ride the camel around the pyramid, but they'll charge you way more to get down. A local rule of thumb is to avoid buying anything around the Pyramids. The Egyptian government is working on building a visitors center where all visitors must enter to eliminate the practice of hawking items and services.
Stop Taxis on the Street

Image via Flickr by Hossam el-Harmalawy
Around Cairo's larger hotels, English-speaking taxi drivers loiter in hopes of catching a large client and becoming their chauffeur for the day. They're worth paying extra for just because they speak English. If you're sticking to your budget, however, it's cheaper to walk around instead of hailing a taxi. Just make sure to drink plenty of water. Water is fairly cheap in Egypt shops. If you don't drink frequently, you'll quickly get dehydrated and succumb to the heat.
Book Hotels Independently
Rather than booking hotels directly, you should book hotels independently through third-party sites. As is the case with all hotels, the less time remaining in a day, the cheaper the room will be. It may not be possible to get any cheaper than it already is, though – hotels run about 5 Euros per night!
Buy Used
As is with every other corner of the world, if you can, buy an item used. That includes Used Cars at Dubizzle, but be sure to find out what it's worth before throwing down the cash on one. In some instances, it may be cheaper to buy a small used car and then turn around and sell it instead of renting one. That way, you won't have to worry about anything being wrong with the car and possibly getting hit with all sorts of random fees.
Use Travel Guides
Image via Flickr by Yvon from Ottawa
Instead of doing things through a travel agency, book excursions through a freelance private guide. As with most things, it's best to shop around, and it's often a cheaper option since individual guides have less overheads than an agency and can offer cheaper prices while still being profitable.
Wait to Get Your Visa
Rather than getting your entry visa at home, wait until Cairo airport to get your entry visa. If you wait, you'll be spending about $15 per person from the bank or through a local travel agent. Some travel agents can arrange these services for about $5 per person.
Buy a Prepaid Local Phone Sim Card
Once you get to Egypt, buy a prepaid local mobile phone sim card. With this, you'll be able to contact home for a cheap rate. There are three providers in Egypt that all have excellent coverage. All of your calls should be free of charge, but you need to reload it every 30 days or so.
There are many ways to cut the cost of traveling in Egypt. What are some of your tricks to save money when on a vacation?