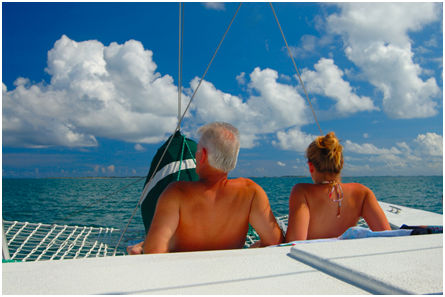 You've finally done it. You've made it to the end of the working line, and you are finally free; it is time for retirement. You can go wherever your heart desires, do whatever you want to do, and see whatever you want to see—but, do you know where you want to live? For many, this might be an easy question to answer. You might want to "Go where the family goes", "stay where I feel comfortable", etc. etc. However, if you don't have your heart set, let us posit a few places for your consideration. These are the best of the best, based on livability, weather, and entertainment; these are the best places to go for retirement.
#4—Florida
Florida, without a doubt, is a great place to retire. With wonderful beaches, golf courses as far as the eye can see, and seaside towns that are at once laid back and fast paced, there is a ton of things here for anyone who is looking to retire. However, one quick word of warning before we get back to the praise; it is unbearably humid. If you have no trouble living with 90% humidity in the summers, then by all means, go for it; however, be careful. Many do not take kindly to this extreme humidity. Other than that, however, it is a great place to live, and it gives you plenty of entertainment options (like Disneyworld!) for you and your grandkids, if you have any. With this in mind, we recommend it whole-heartedly; just keep our warning in mind.
#3—Colorado
If you are looking for beautiful wilderness, backcountry goodness, and the nicest people anywhere, Colorado is definitely the place for you. Known for its friendly folk and gorgeous mountains, Colorado offers a retirement backdrop that is truly breathtaking in every way imaginable. On a daily basis, you'll see timid deer, beautiful turning trees, incredible slopes—that are perfect for skiing and sledding—and, of course, towns that are just perfect for settling down after a long life of sweating and working. Though it can get a bit cold, Colorado is great for people looking to get away from the fast paced nature of the city, and is also one of the most beautiful locales on this list.
#2—Arizona
Arizona is an underestimated place to retire, but is nevertheless one of our favorites (particularly if you live up North). Overall, this state is a golfing wonderland, filled with some of the US's best golf courses around. But, what truly makes Arizona such a great place to retire to is the INCREDIBLE housing opportunities that are open to you. It is incredibly cheap to live basically anywhere in this state, meaning you can get million dollar grade houses for only 500k, or less! Add in the incredible dining experiences—Mexican food here is better than anywhere else—and the laidback atmosphere, and you can see why we rank AZ so highly. Oh, and did we mention that it rarely dips below 50 degrees in the winter? Yup, Arizona is a retirement paradise, so PLEASE don't overlook it when you are looking for a place to live.
#1—Hawaii
Imagine a jungle paradise, with slowly rolling hills, crystal clear waters, and the most wonderful ocean life that you have ever been introduced to. Fix it in your mind's eye, and imagine yourself there. Got it? Good, because you are now imagining the best retirement place in the entire world; welcome to beautiful Hawaii! Named the happiest place in the US, Hawaii is simply a no brainer for retired folk. The entire set of islands is a beach, and the sunsets are quite literally awe-inspiring; but, what truly draws us here is the incredible whether year in and year out. Because it's closer to the equator than any other state on this list, you never have to worry about cold winters or excessively hot summers—it stays at a beautifully temperate 70-80 degrees year round. No more shoveling snow or shedding clothing until you can finally breathe; instead, you can sit out on the beach with your favorite drink, relaxing your days away. Truly, Hawaii is about as good of a retirement community that you can get, so look into your options! It's definitely worth the cost.
Tyler Fleck is a multi-purpose blogger writing on behalf of Glencroft, a faith-based Arizona retirement community. Glencroft is for active, energetic seniors who want to share their retirement with other faith-driven people.