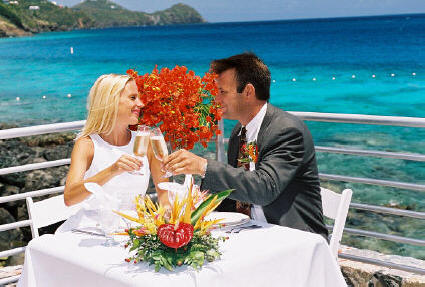 Perfect Caribbean honeymoons are the trademark of the region and any couple with the intention of making their honeymoon truly memorable will almost always have the Caribbean on top of their list of options. But there are slightly different 'twists' to the usual ways of expressing your romantic feelings. Consider the following three options.
"Romantic Shopping"
It is often said that nothing delights a woman more than giving her a chance to shop, shop, shop! If the way to a man's heart is through his stomach (by treating him to great food), then shopping more or less serves that same purpose with women. For this reason, Caribbean honeymoons that allow leeway for the couple to visit the region's best shopping districts are truly unforgettable. Every island in the region has its own shopping centre, but some, in particular, stand out. For example, in The Bahamas Nassau's shopping district can be an exhilarating experience for the avid shopper. Moreover, there is also Charlotte Amalie in St. Thomas, the city of Old San Juan in Puerto Rico, and the Philipsburg shopping district in St. Maarten. You can easily spend an exciting day in these shopping centres and then cap it off with a delicious local dinner at a nearby restaurant.
A Leisurely Walk Through Old San Juan
Strongly reminiscent of old Europe, Puerto Rico's capital city of San Juan is a heady relic of a bygone era and you can still 'breathe in' the nostalgic and romantic atmosphere when you stroll around the quarter enjoying the sights, sounds, and flavours. San Juan has many attractions that make it one of the best destinations for Caribbean honeymoons starting with the birthplace of the world-famous drink called pina colada. Taste it at the Barrachina restaurant, which is said to have concocted the drink for the first time in 1963. There are also many other dining options around the city, and from inexpensive roadside eateries to more exclusive fine dining restaurants the local food is showcased with a typical island passion.
Depending on your mood, you can turn your tour of the city into a culinary adventure, hopping from one famous dining place to another. Or you can just simply let go and let the sights wash over you, walk along cobbled streets like nothing matters, window shop at quaint little stores, or try riding one of the horse-drawn carriages that will gladly ferry you across town just as they did in the old days.
Barbados's Wellness Options
The sands of Barbados are known to have healing properties so why not treat yourself and let the sands of the island cure all your aches and ailments. Nobody is sure if it is medical fallacy or fact, but the uncertainty has not stopped many people from trying it out and being convinced by its efficacy. That is why many couples on Caribbean honeymoons make a point of having at least one therapeutic and ultimately reinvigorating treatment in one of the many excellent spas or wellness centres.