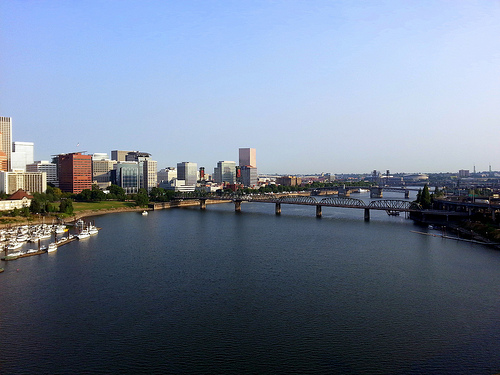 Everyone deserves to have the perfect vacation tailored just for them. If you are on the prowl for an exciting new destination with plenty to do, no matter how many times you visit, here are the best places to go.
Portland, OR

Image via Flickr by Mr.Thomas
From leisurely strolls in a lush garden to a heart-pounding night at the club, Portland has something for everyone.  With so many attractions, you won't know which to try first; the world's largest open air Saturday Market, the Oregon Zoo, or the Brew 'n' View Movie Theaters. There is so much to do with so little time.
Honolulu, HI
A dream vacation for many, Honolulu is a haven to all things adventurous and beautiful. Located on the island of Oahu, you will be surrounded by sandy white beaches and thriving cities. From Horseback riding on the beach, hiking the winding trails of a volcano, or just relaxing in a hammock while the sun kisses your cheek, this island will never disappoint.
Anchorage, AK
Not for the faint of heart, Anchorage is the stomping ground for all things outdoors. During the summer, you'll experiences will include hiking, fishing, horseback riding, kayaking, or taking an Alaskan river cruise. If you're a fan of winter vacations, you will find yourself ice climbing, snowboarding, skiing, or even dog sledding. If you're lucky, you'll stand in awe at the aurora borealis as they sweep the sky with exotic mystery.
Winston-Salem, NC
If you are someone who enjoys simple sophistication, than head to North Carolina for your perfect getaway. Winston-Salem is a large city but with the quiet elegance of a small country town. Vineyards and wineries tangle across the countryside, creating a rustic wine tasting experience. When you've had your fill of wine and cheese, you can hit a few holes at one of the many golf courses, or go indulge your inner artiste at one of the countless galleries and museums.
Denver, CO

Image via Flickr by Mr.Lujan
After a long day exploring the Rocky Mountains, followed by a soak in the Glenwood Springs, you'll be ready look at the homes in Denver Colorado so you can stay! Whether you're looking for an outdoor escape or a city experience like none other, Denver blends the best of both worlds into one fabulous package.
Park City, UT
Famous for the annual Sundance Film Festival and the previous host to the 2002 Winter Olympics, Park City is always buzzing with life. In the city, you'll discover luxurious lodging and spas, five star restaurants, and, of course, many celebrities who reside in this mountain getaway. Beyond the city, you'll find adventure in the form of winter activities, hiking, boating, biking and fishing.
Sacramento, CA
The Capital of California has a lot to live up to, and it doesn't disappoint. While not on the coast like other California hotspots, Sacramento makes up for the lack of beach with a city that's filled with class and extravagance. The theater scene is raw and spectacular, while the museums, dining and shopping is simply exquisite. The perfect trip for anyone seeking a bit more culture in their life.
Scottsdale, AZ
Ever imagined a life on the plains as a rugged cowboy? Well, head to Scottsdale and you'll experience the rancher life, but in style. Saddle up and spend a week at one of many all-inclusive vacation ranches. Or, if dirt and sweat isn't your thing, spend time in the city visiting museums, amusement parks, zoos, and some of the best steak houses you in the west. As a cowboy would say, no matter which way you ride, you won't ever run out of trail.
Seattle, WA

Image via Flickr by dherrera_96
Coffee city, otherwise known as Seattle, is the perfect escape for anyone. Attractions such as the Space Needle and the first ever Starbucks Coffee shop are just a few things that this city holds. Or, if you're a nature lover, there are countless gardens and pristine wildlife preservations to explore and admire.
Boston, MA
If you are looking for a big city experience, Boston is your destination. You'll see sites like old colonial buildings alongside urban new-age structures; the city is a perfect blend of history and present. Also home to several sports teams, and, of course, Harvard University, there is always something new around every corner.
With such little free time, you deserve to have the best vacation imaginable. So, regardless of what you want out of your trip, you'll find yourself returning to these cities every chance you get.