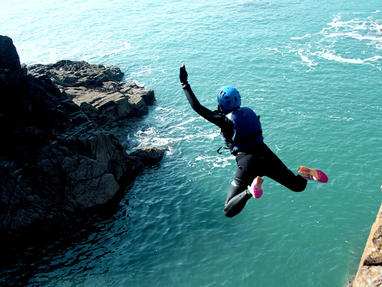 When you hear the words 'activity break' what comes to mind? For many, this term has become associated with extreme sports such as rock climbing or parachute jumping but in reality there are many different activity breaks that can be taken at your own pace.
1. For the Thrill Seeker
It's true that if you love extreme sport then an activity holiday can be catered around your needs. If you're into climbing for example then you can choose to scale some of the more gentle peaks across England but the more adventurous can extend their break to conquer some of the biggest summits across the globe.
Activity breaks cover many other extreme sports too so if you want a few thrills from your holiday then you really are spoiled for choice. Parachuting, Parascending, Bungee Jumping and many more are offered by a whole host of tour operators.
2. Mid Range Sports
Activities such as skiing offer plenty of thrills but without the extreme danger. Yes, there are hazards with this type of pastime but for experienced skiers there are excellent opportunities for Winter Sports and they can be enjoyed all year round.
In a European Winter, you can even enjoy skiing in the UK with centres such as A vie more in the North of Scotland on hand to offer some of the best activity breaks around. Further afield, locations such as the Swiss Alps will always be popular but when that European Summer rolls in, the more intrepid can head to places such as Australia and New Zealand to continue their passion.
3. Other Sports
If you're a keen golfer then there's nothing better than testing your credentials on some of the best courses around the world. Golf is unique in the sense that the amateurs can play on the same locations as the professionals, albeit not at the same time!
So, you could plan your activity break around the home of golf at St Andrews or alternatively, you could leave British shores to seek out some of the most popular locations in Spain or Portugal. The only issue with those countries is that they can get extremely busy and it's not uncommon for a round to take six hours or more so you may want to consider some of the less obvious destinations such as Italy, France or even Germany.
Cycling tours are also very popular and these types of activity breaks give you real freedom to explore some of the best scenery across the world.
4. Gentler Pursuits
The term 'activity break' can also be extended to cover walking tours and this is a huge sector of the market as far as the travel operators are concerned.
Once again, this type of holiday really gives you freedom to explore and go far beyond the type of tour that the standard travel companies offer. Walking activity breaks are a huge growth area and if you prefer a ramble, or something more testing over some rough terrain then your needs can be catered for anywhere in the world.
AUTHOR BIO
Idania is a freelance journalist who combines her love of writing and travel to report on the best holiday activity breaks around the world. You can read Guy's previews on a range of breaks on a host of websites.