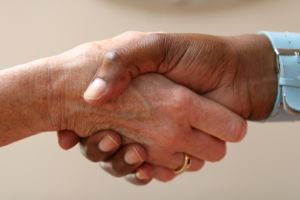 Most employers want to see happy and productive employees, not miserable, lethargic ones or even worse ill and fainting ones. Part of achieving this is ensuring that staff are physically comfortable when they are at work and that means dealing with the summer heat.
Can You Provide Air Conditioning?
There are portable air conditioning units which can be used in buildings where it is impractical to install permanent air conditioning. The key point to remember is that are only any use in sealed environments. In other words if you work in a busy office where the door is continually being opened and closed, air conditioning is largely pointless.
If you can provide air conditioning, then use it effectively. The temperature should cooler than outside, but your staff should be able to go in and out of the building without their bodies feeling a major shock at the change in temperature.
Do You Need To Relax Your Dress Code?
While your staff may need to look smart, jackets and ties can be hugely uncomfortable in hot weather. Could you reach a compromise to allow staff to wear more relaxed clothes in the office, provided that they dress up for customers?  Part of the art of managing this is making it clear what the new boundaries are and how long they are in force and also in reminding staff that customer meetings can crop up suddenly so they will need to have appropriate clothes at the office, ready to put on.
Avoid Water Everywhere
Summer might be the perfect time to invest in some company-branded drinking bottles, ones with sports tops, i.e. where you push a spout up to drink and then down again to seal the bottle. The simple reason for this is that water and IT equipment are not necessarily a happy mixture and this will help to avoid accidents.
Another effective and affordable purchase are bottle-style tops for cans, sometimes called can caps or snap capps. These fit on the top of standard cans and means that they can be closed off between drinks. This keeps the fizz in and insects out and also helps reduce the likelihood of spilled drinks destroying computers.
Consider installing extra water dispensers. Even if you can't plug in water coolers, there are dispensers which are simply filled using large bottles, which can be placed in areas where there is no free electrical socket or plumbing. There are even smaller ones which can even go on desks and be filled from tap water.
Have A Heatwave Emergency Plan
Power cuts and water cuts can happen in summer and when they do, they can be a miserable experience. Have a plan in place for what you would do if that did happen. For example could staff work from home or would at least some staff need to work from the office?  If the latter, can you keep them fed and well watered without them needing to go outside, bearing in mind that surrounding shops may also need to close?  This could involve using refrigerated van hire. London and other major cities have plenty of companies offering this as a service…
The author once had to work in a sealed building in summer during a power outage where there was no air conditioning and no water for drinking or going to the bathroom. It was an experience she hopes never to have to repeat. Now that she works in Scotland, overheating is relatively unlikely.