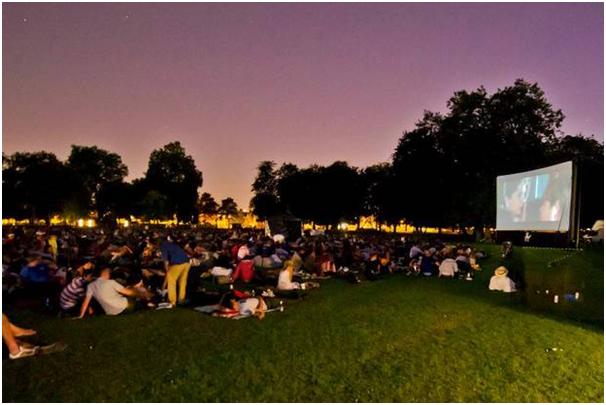 Gone are the days of dark, sticky-floored gloomy London multiplexes. Now, London's (somewhat) wonderful summers bring us a range of film screenings in open-air locations such as on roofs, in gardens and in city parks. Here are my top picks of the capital's best outdoor cinemas. Bring your own umbrellas, blankets, and raincoats just in case.
The Queen of Hoxton
Situated high over the city in East London is the Queen of Hoxton's rooftop terrace. It's covered with tiki lamps and grass which holds a BBQ and a bar. Sounds like it can't get better, right? Wrong. Rooftop Film Club is on five days a week. You also get wireless headphones to block out the world and stop people bothering you during the movie.
Rooftop Film Club operates in other outdoor cinema spots as well, like NetilHouse and Bussey Building in Peckham Rye. A stress-relieving cocktail with some authentic street food alongside film classics is the real way to live.
Film4 – Somerset House
Film4 in Somerset House is the best of the best. Summer Screens are placed in the grand courtyard in Somerset House, and the tourist attraction quickly becomes an attraction for everyone, showing classics such as Ken Loach's Kes. Bring along food and drinks and have a picnic!
The Luna Cinema
This one's probably the most visually stunning alfresco cinema experience in London. The Luna Cinema can be found in all thebestlocations, including Ascot Racecourse, Hampton Court Palace, Regent's Park and Brockwell Lido. At the Lido, you can actually watch the movie from a seat floating in the pool! Tickets are often limited so book as soon as possible.
Pop Up Screens
Pop Up Screens runs a yearly programme showing 30 films in 10 weeks during the weekends in parks throughout South London. Areas such as Fulham, Lewisham and Morden are packed with people lining up to watch classics such as The Big Lebowski, Zoolander and Labyrinth. Day tickets are £8 each and a season ticket for access to every screening costs £60.
Nomad
Nomad's outdoor screenings are held in the strangest locations in London, but at the same time promise to be a unique experience for all viewers. They run from July to September and includeFour Weddings and a Funeral (Fulham), Where the Wild Things Are, (Bloomsbury) and The Motorcycle Diaries (Forest Hill). Tickets sell out fast so now is the perfect time to book.
The Scoop at More London
This 1,000-seat theatre is right around the corner from Tower Bridge along the Thames. The Free Film Festival takes place this September with screenings showing contemporary, cult and classic movies including The King's Speech, Dirty Dancing and Grease. Films run from Wednesdays to Fridays, 14th to 30th September. No booking is required!
The Floating Cinema
27th July sees the launch of the Floating Cinema which will navigate around East London canals with 20 ticketed and free events. These include large outdoor viewings and on-board screenings.
Kew the Movies
Kew the Movies first launched last year and was a huge success. The elegant Kew Gardens in South West London plays host to this year's opening screening of Cinema Paradiso followed by TheRocky Horror Picture Show. Bring some food to enjoy on the lawns, and check outRocky Horror's Richard O'Brienwho will be giving a special introduction in person.Make sure you get tickets early because it'll sell out quick!
Midsummer Night Screen
After their huge successinDalston Roof Park the past two years, Midsummer Night Screen is going to be changing their location this July. They are taking over a statuesque 1930s tower in North London. Not "open-air" to be exact, but you can still enjoy food and drink on the two terraces that stick out over the water, before going inside to enjoy classics such as Manhattan, Stand By Me andThree Colours Blue.
Regent's Park Open Air Theatre
The award-winning Open Air Theatre in Regent's Park always becomes something of a London landmark every summer.To Kill a Mockingbird is on this month (June), with Pride and Prejudice taking over through to late July. It all ends with The Sound of Music and The Winter's Tale which runsuntil September. With lights twinkling in trees, picnics all around and drinks at the bar, the park attracts all kinds of people, making for a perfect summer day out.
We get enough depressing darkness through London's winter, so why not get out and enjoy a movie in the sunshine? Most of the events outlined allow you to bring your own food and drink, so there's really no excuse not to try one out.
If you're travelling from out of town, you may want to check out HotelClub's latest London hotel deals to get an early-bird discount. Sit back, relax and enjoy the show!