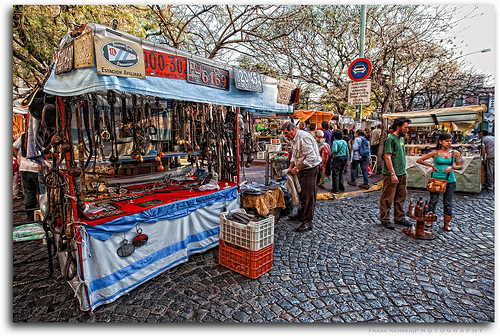 Whether you are planning to backpack around Europe, cruise around the Mediterranean or drive across America, there are great buys to be had. Try a few of the following destinations for some  really cool hopping experiences…
 Spain
Shopping in Spain is one of life's pleasures, especially if you are into food in a big way. Spanish cuisine has seen a huge resurgence in recent years and after the astounding success of El Bulli, there is no need to ignore the fantastic food and drink that is offered up in Spain. The great buys are the things that you can transport easily. There are great gifts such a little brightly coloured boxes of saffron and beautiful tins of anchovies. The olive oil is trickier to transport but the flavor and quality of the often overlooked Spanish bottles is quite wonderful. Paella pans are great reminders of good times but will also serve your home kitchen well over the years. If travelling by car make sure to stop at roadside restaurants as they often have really good delis attached to them. Try the wine – the Spanish make Rioja that is superb, as well as the powerful Tempranillo. A couple of bottles of this wine is a wonderful thing. Look for decorative boxes of salt from over the water in Ibiza or try bringing home a chunky block of Manchego cheese. Delicious.
United Kingdom
Fashion is a big thing in the United Kingdom and if you want something unique, then London is a fantastic treasure trove of places to shop. Skip the ordinary high street and head for Notting Hill. Portobello  market is a brilliant place to find a one off outfit, even accessories and shoes. New designers peddle their wares there but the great bargain hunt is on the vintage market stalls. These clothes are unique and right on trend. Ranging from the twenties until the eighties, there are clothes here that are rare and very hard to come by. Spend some time here and you are sure to bag a bargain.
Mexico
There are treats in Mexico that are hard to ignore. The culture is a riot of colour and this is reflected in the amazing souvenir s that are available. There are Mayan masks everywhere and wonderful ceramics depicting sun and moon Gods. In Mexico city El Bazar Sabado is a fantastic place to collect arts and crafts. The market is in San Angel, spread out across several little parks. This is the perfect place to hunt for bargains and find unusual gifts forpeople.  Arrive after noon for some great buys and some fantastic people watching.
Argentina
Buenos Aires is a shopping mecca. There are street markets, incredible shops and a whole host of fantastic places to buy something memorable. San Telmo is a famous district in the city. The Tango was born here and there are incredible street performers making the most of the history. The antiques market is held in the central square and what a place. There are some great things to buy : antique watches, glassware, musical instruments and vintage jewellery. Save some room in your suitcase for the things that you might find in this sprawling market.

Enjoy your trip and find some great items to remember your trip.