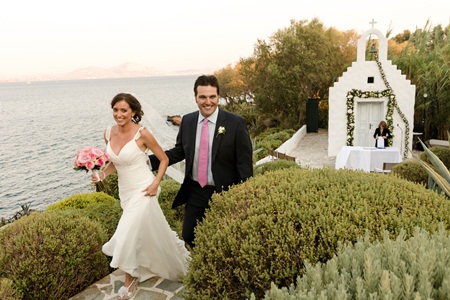 Choosing to get married in Greece can be a great decision, but once you have made it, you then have to decide whether to get married on the coat or in a city. There are good and bad things about both and so it is worth considering them before making you decision.
Beach
Having a beach wedding means that you can enjoy the beautiful sand and the sound of the sea. It can be very relaxing and there are likely to be a lot of holiday places for your visiting friends and family to be able to stay in. You may even be able to have your ceremony on the sand or overlooking the water.
[vimeo id="63638720″ width="500″ height="340″ position="right"]
One problem with being on the coast is that it can be windy. This means that veils and hats and maybe even hair might blow around a lot. This may not look that good in the photographs or make the women feel particularly comfortable. Walking on the sand may also be a challenge, unless you are prepared to get married in bare feet. Guests may also struggle in some types of footwear.
If you are in a popular resort, then you could find that it will be busy on the beach when you are getting married. This may mean that you will have people you do not know around and they may watch, albeit from a distance. You may not mind this, but you may prefer something more private.
It can be lovely to share a beach wedding with a coastal holiday and have friends and family around you to enjoy it with you.
City
Greek Weddings in the city could be full of tradition. You may wish to choose an old church or building to get married in. You will have all of the interesting architecture surrounding you.
Getting married in a cool church can be preferable to being outside in the hot sunshine. You will not get blown around as you repeat your solemn vows. You may also want to be married in a church as you may feel that it is a more appropriate place for a wedding.
In a city you will be able to have lots of interesting places to explore while on your honeymoon. There will be a selection of restaurants and bars as well as museums and art galleries. With lots of interesting buildings as well, there will be a lot to look at. Cities also have a great night life so you will be able to celebrate your wedding in style.
The choice that you make will really depend on what type of person you are. Most people have an idea of what they would like their wedding to be like, a long time before it happens and so this will have a big influence on your choices too. Obviously both partners will need to agree on what they think will be the best for them. There are always a lot of decision to be made when planning a wedding but once you pick Greece, then you have a great destination and the rest should just fall in to place.