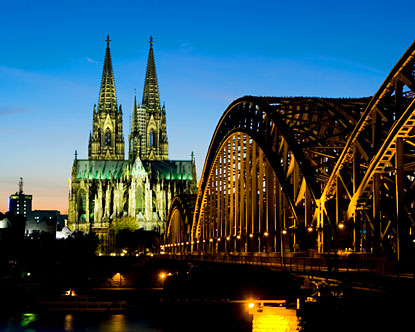 When studying abroad, everything from the grocery store to the classroom is a new experience, but there are some more adventurous and culturally specific landmarks to explore for a more holistic and inspiring experience. If you plan on studying abroad in Germany, don't miss the following must-see/do activities and landmarks in Cologne during your trip.
Unlike your average bridge, the Hohenzollernbrücke Bridge features thousands of "love locks," which are small padlocks lovers secure to a fence across the bridge as a symbol of their affection for one another. This trend isn't entirely unique, however, since many couples in cities across Europe leave behind padlocks as a symbolic rite of passage in their relationship.
2. Cologne Cathedral
One of the most popular attractions in the city, the Cologne Gothic Cathedral took 600 years to build and is considered a world heritage site by United Nations Educational, Scientific and Cultural Organization. The cathedral holds daily mass services for those who want to worship while exploring its breathtaking architecture.
3. Rheinauhafen District
This bustling waterfront complex is located right on the Rhine, featuring a mix of contemporary residential and office buildings surrounded by cafés, restaurants and galleries. Visit the architectural masterpiece called the "Kranhauser" against the picturesque skyline and treat yourself to a stay at the newly-opened four-star hotel, art'otel cologne.
4. Käthe Kollwitz Museum
A more eccentric cultural destination, the Käthe Kollwitz Museum has a unique collection of art that you won't likely see at American museums. From themes illustrating intense grief to abstract depictions of the bond between mother and child, the museum is sure to be an emotional and engaging experience.
5. The Chocolate Museum
Need I say more? Although you're not far from Switzerland, Cologne is the second-best European destination for delicious chocolate goods. Sample some yourself by dipping wafers in the museum's famous chocolate fountain and sip a to-die-for mug of hot cocoa at the museum café.
6. Rhine Boat Trips
You can't study in Germany and not go on at least one boat trip down the calm and inviting Rhine River. Visit the tourist office to talk about day trips both with a guide and without.
7. Cologne Opera
For an all-new cultural experience, visit the Cologne Opera for outstanding music, impeccable staging and some of the most famous opera singers and conductors in the world. The opera house sits more than 1,300 people, and features the well-reputed Gurzenich Orchestra of Cologne.
8. Cologne Cable Car
Explore the city from all new heights in the Cologne cable car, which has been in operation for more than 50 years. The unique, unforgettable view will certainly be one of the memories you'll cherish for years.
9. Altstadt
Remember: the legal drinking age is only 18 in Europe, so take advantage during your study abroad experience by kicking back with a beer at a pub in Altstadt. Be sure to try the town's original Kolsch beer, which is a pale, fermented brew that tastes as good as it makes you feel!
10. Buy Cologne
Either for yourself or for a male friend, you can't visit Cologne without buying some cologne. Virtually every tourist spot sells bottles of "Eau de Cologne No 4711," so pick up an authentic bottle next time you're out.
In addition to these must-have experiences, try to make your trip completely your own by taking a few days to wander around the city and discover a few hidden treasures of your own. This list will help you get out there and see your new home outside of the classroom.