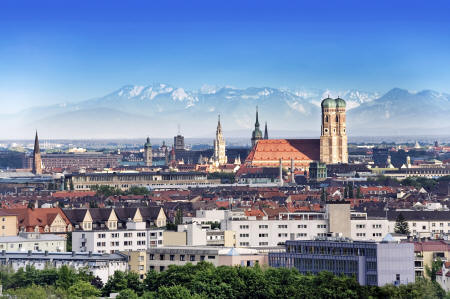 The chance to study abroad offers a one-of-a-kind opportunity to submerge yourself in a new language, new cultural experiences, and to see a new part of the world. Europe bursts with cities that tempt students with their rich histories of art, literature, religion, philosophy and world-renowned festivities. Before you decide on a university in the hotspots of London, Paris or Rome, though, don't overlook Germany's offerings as a great place of study.
First things first
There's no denying you'll have a few extra things to think about if you get your education in Germany. You'll need an F1 visa to stay in the country, F1 visa insurance to cover potential healthcare needs, and you'll have to leave behind your support base and the familiarity of your culture. But it'll all be worth it.
Central location
When you study abroad in Europe, travel should be at the top of your agenda for extracurricular activities. With the rail system and inexpensive flights offered by intra-continental carriers, getting from one country to another takes limited time and limited funds.
Germany proves an ideal base for European travel. If you aren't familiar with the geography of Europe, take a look at a map. You'll see that Germany gives you easy access to France, Italy, Switzerland, Poland, Austria, the Netherlands, the Czech Republic, and even Scandinavia and the United Kingdom.
History
Though you have easy access to a large chunk of Europe, you don't have to leave Germany to find plenty of sites worth visiting. Germany is a hotbed of history, and you can take a trip back through the centuries before without ever leaving the country.
Walk up to the Brandenburg Gate of Berlin, the city's most famous reminder of the 1990 fall of the Berlin Wall, tour the country's famous castles, visit Nuremberg. There is no shortage of memorable places to take in.
Then, when you're ready for an escape, hike through the Black Forest, inspiration for the fairy tales of the Brothers Grimm, attend Munich's Oktoberfest, the largest fair in the world, and stroll through the country's famous Christmas markets.
Food
Wursts, schnitzels, sauerkraut, pretzels, mustard. Germany is known the world over for its native dishes, as well as a few desserts, such as the dreamy chocolate-and-cherry confection Black Forest cake.
And don't forget the beer. Germany is home to some of the world's finest brews and top beer gardens.
Programs and costs
Being in Germany for an extended period offers the best opportunity to learn the language you'll probably ever get, which is ideal for English as a Second Language (ESL) students, and those hoping to pick up additional skills while abroad.
Germany offers a few major areas of study for study abroad students, including Architecture and Metropolitan tracks in Berlin, Environmental Studies in Frieburg, and Business in Cologne.
Germany is also one of the cheapest options for European study, according to U.S. News, with tuition around $600 per semester in 2012. Compare that to the average U.S. tuition cost of $8,655 for the 2012-2013 academic year, and it's easy to see how getting your education in Germany can save you some change.
Taking the chance
Studying abroad is a chance to go beyond your comfort zone, though, to take charge of your life, and to discover that you may want to see more of the world. Talk to the  study abroad advisor at your school today and get ready for an infinitely valuable life experience.