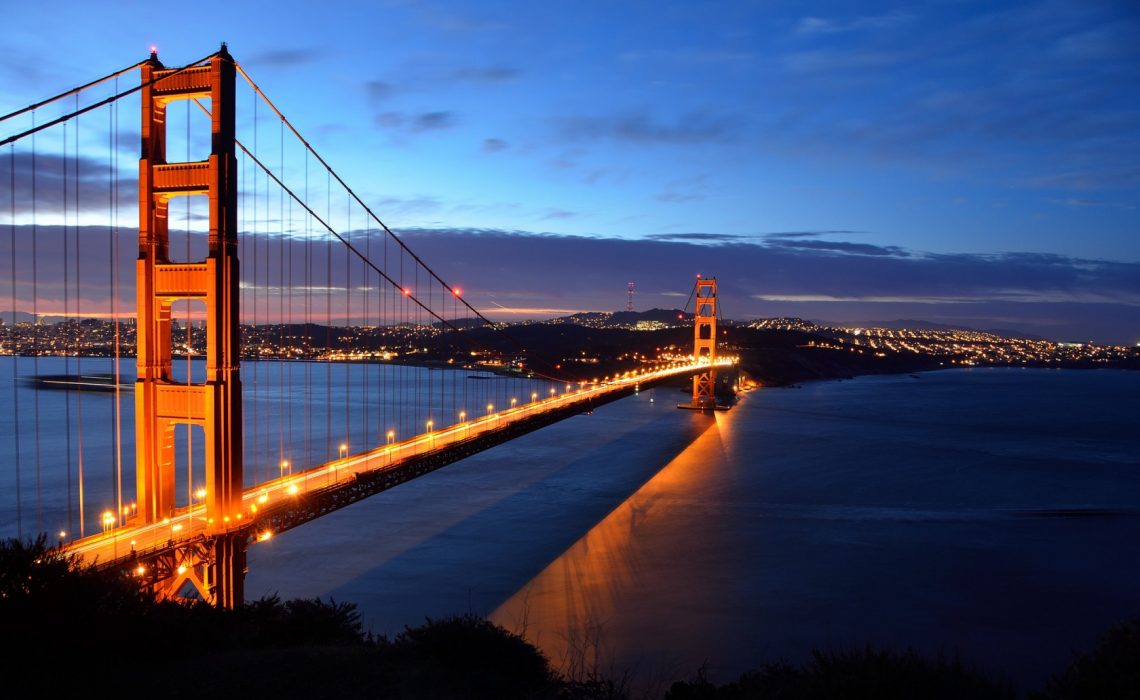 San Francisco is one of the premier cities in America, a melting pot of ethnic and cultural diversity in a picturesque setting brimming with national landmarks and tourist attractions. The City by the Bay is the second largest city in California, and a bustling center of commerce and economic power. When visiting or moving to San Francisco, the question isn't what to see, it's more what not to see.
Here's a brief list of must-see San Francisco landmarks and attractions.
The Golden Gate Bridge
Captivating. Unforgettable. Majestic. Epic. There are few adjectives that cannot adequately describe the architectural marvel known as the Golden Gate Bridge. Spanning 1.7 miles and rising 746 feet into the air, this suspension bridge has been a longstanding international symbol of both San Francisco and the West Coast as a whole. Aside from driving over it, more cardio-inclined visitors can opt to traverse the bridge via foot, as it provides countless photo opportunities. Whether you're moving to San Francisco or just visiting, the Golden Gate Bridge is a landmark that deserves your complete and utter attention.
Ghirardelli Square
The second oldest chocolate company in America, Ghirardelli Chocolate is one the most prominent chocolate manufacturers in the world, renowned for their delectable offerings and dedication to producing the highest-quality product possible. Ghirardelli Square is a retail and dining complex located on the land of the original Ghirardelli chocolate factory. Visitors can peruse a wide variety of shopping options, but the centerpiece of the area is still a large Ghirardelli Chocolate store, where people can satisfy their sweet tooth with ice cream, shakes, and sundaes.
Alcatraz
Alcatraz is one of San Francisco's most iconic landmarks. Situated roughly 1.5 miles offshore from the city, "The Rock" is a former maximum-security penitentiary that housed hardened criminals such as Al Capone, James "Whitey" Bulger, and Robert "The Birdman of Alcatraz" Stroud. Now visitors are given access into the dilapidated prison's interior, and allowed to stroll through its halls, cell blocks, and cafeterias. Sightseers are also given the opportunity to explore the reportedly oldest light house on the West Coast and observe the natural beauty surrounding the small island.
Arguably the nation's most famous prison (despite shuttering its doors in 1963), Alcatraz tours allow people to step back in time into a bygone era and explore one of history's most infamous federal penitentiaries. Tours are offered daily from several different companies.
Lombard Street
Not the entire street. There's one specific section located between Hyde and Leavenworth named Russian Hill that features 8 switchbacks and has earned the distinction of being the crookedest, windiest street in America. It's gimmicky, but takes no more than a minute to navigate, and you'll never forget it.
Fisherman's Wharf
Consisting of the general northern waterfront area of San Francisco, Fisherman's Wharf is both a bustling tourist center and functioning center of oceanic commerce. Notable destinations include the famous Pier 39, Aquarium at the Bay, Ripley's Believe It or Not Museum, and the Maritime National Historical Park.
From a gastronomical standpoint, seafood is the name of the game, and Fisherman's Wharf serves it up in abundance. Dungeness crab, clam chowder, shrimp, it's a seafood enthusiast's paradise.
Conclusion
Despite the famous and iconic nature of all the aforementioned must-see attractions/ landmarks, we've barely scratched the surface in regards to fully experiencing San Francisco. There's the Castro District, Exploratorium, Chinatown, and a whole host of additional immersive San Fran adventures awaiting you. So whether you're a local, tourist, or moving to San Francisco, be sure to set aside some time to fully experience the great City by the Bay.
For more information check out YouMoveMe if you're moving to Boston, moving to Vancouver or moving to Toronto.