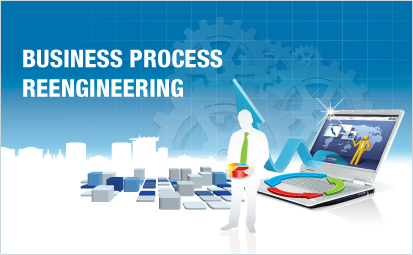 Business process re-engineering means study, analysis and redesign of fundamental business process to reduce cost and add value to the business. For example- a manufacturing organization delivering its goods to the retailer after receiving the sales order. The company receives the physical indent application and sends its stock to immediate distributor or whole sailer and finally it has reached concerned retailer. Manually this system takes many stages and time. This approach is called desk to desk. If the same procedure takes place electronically by the internet or any other communication network, it is called work sell approach. Work sell approach usually takes the assistance of IT tools strategy and whole process changes from desk to desk, so WCA is called Re-engineering or BPR.
Characteristics Of BPR
It integrates all activities in an organization.
Decision making empowerment improves.
All jobs can be performed simultaneously.
It enables economies of scale.
Work is shifted- Normal work often shifted as new process and changes occurs in the organization.
It minimizes the flow of work.
Total Quality Management
It is an integrated philosophy of management for continuously improving the quality of product and process. Total Quality Management is a thorough as well as arranged procedure for organizational administration that attains best top quality of products, through using effectively refinement and response to continuous feedback and through using them proficiently to be able to supply best for the customer by achieving long term objective of organizing.
Business Process Re-Engineering Implementation Steps
Top level management develops a broad strategic vision and objectives or where the organization needs to redesign.
Identify the process to be redesigned: – after analysis of the long term vision and objectives of the organization they have to identify the business process elements where the need to redesign should take place.
For that management should identify the groups, functions and the people to involve in the change process of the system.
Now, before going to redesign the system it is must review and analyze the existing system physically as well as logically. It can provide a good understanding of the existing system and also makes it possible to find the bottleneck areas where the need of Business Process Reengineering requires.
Once we are measuring the performance of our existing system it is time to find information. It can also be termed as the radical redesigning of an organization via sophisticated computer science and technology. Therefore resulting in an effective redesign of the organization. For proper redesigning one must select proper and appropriate IT tools and technology.
Once we are done with analysis and information finding its time to do some real work, i.e. building the prototype. It is also the last phase of Business Process Reengineering implementation process. The prototype provides an actual insight into the actual system benefit out of redesigning. The prototype of the new system also assists in understanding the possible consequences proposed redesign in current business process.
Principals Of Business Process Reengineering
Focus over outcome not task.
Use the output of the process to perform the process.
Link parallel activities rather than integrating their results later on.
Where ever there is a bug put a decision point and converts it into a process.