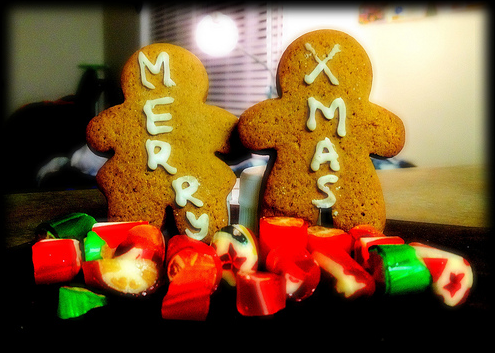 It's not uncommon for people to save their pennies over the year for a big splurge of Christmas shopping in the USA just before the 25th. Most people will be back home in time to get the turkey in the oven, but have you ever considered staying in America for the Christmas holiday? Here's some suggestions on where to stay, how to celebrate, and most important of all – the best places to get your shopping done!
If you're thinking of going this year but not yet decided, around the 15th December is a good time to start hunting for last-minute deals. By then many hotels and airlines start looking to fill empty beds and seats. If you're prepared to take awkward flight times, or take a bit of a chance with your accommodation, then you could potentially save yourself hundreds of pounds, making Christmas very merry indeed!
Where to Stay
Personally, if I were going to the States for Christmas there's only two places I'd consider – New York, naturally, because the festivities are just one more of millions of reasons to visit the Big Apple, and Hawaii because, well, winter can be pretty horrible, weather-wise, so why not escape it? But some good alternatives are one of America's many fantastic ski resorts, such as Durango in Colorado, where you can find a bit of luxury, some great piste, and stunning scenery, or Chicago, where there is loads to do at Christmas. One place I would definitely love to go if I ever get the chance is McAdenville in North Carolina, where throughout December the whole town is lit up by one of the most gorgeous Christmas light displays imaginable. Virtually every house and tree has some form of decoration, including 200 wreaths and a 70-ft model of Santa and his reindeer.
Where to Shop
New York of course! The flagship stores of the world's best-known brands line Manhattan's streets, but whatever your taste, from the gilt-edged to quirky thrift, you'll find something there. For some ludicrous pampering, why not spend a while in Las Vegas, where your hotel can organise chauffeur-driven trips around the outlets, so you don't have to carry your bags along with you. Or why not try Florida, with its gigantic strip malls where you can pick up anything under the sun – get all the shopping done for the whole family in a few hours, then you can spend the rest of the holiday relaxing!
How to Celebrate
Well, this is one area where you shouldn't be too stuck for ideas. Book a holiday in the USA through a company such as Grand American Adventures and take your pick. In New York, what about some ice-skating in Rockefeller Plaza, or browsing the iconic window displays of shops like Saks and Bloomingdales? Wander among the crowds to see the decorations in Time Square, and take in the Rockettes show at Radio City. If you happen to be in Vegas, I strongly recommend you find time in your schedule for a visit to the Bellagio Hotel, where their legendary water fountain display dances to the sound of carols. Or go to Sam's Town Hotel where they lay on an almost-realistic snow shower in the middle of the desert. In Chicago you have the German Christmas Market where you can pick up many traditional and hand-carved decorations and toys, as well as some delicious foodstuffs. In the Windy City at this time of year the local theatres also put on some great productions including A Christmas Carol, and the Nutcracker. Visiting New Orleans? Maybe a celebratory river steamer voyage, or bop to some hip jazzed-up carols in any of the bars along Bourbon Street.